Secretary General
Ms. Elizabeth S. Zavalla
Secretary General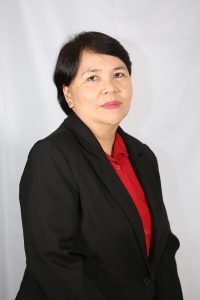 Elizabeth S. Zavalla currently serves as the Secretary General (SG) of the Philippine Red Cross (PRC), responsible for the management, administration, and operations of PRC. She oversees all PRC activities and its regular and special programs.
Before being appointed as Secretary General, SG Zavalla was the Assistant Secretary General (ASG) for Program Development and Services since 2014. She ensures the efficient management of PRC programs and service delivery to the most vulnerable families affected by disasters and emergencies. Known for multi-tasking, she also coordinates PRC's special projects. Prior to being ASG, she was Head of Special Projects of the Office of the Chairman from 2010-2014.
Before joining PRC, SG Zavalla had a long history of public service. She started her career as Economist for the Olongapo City Planning and Development Office (1980-1981) and later became its Acting CPDC (1983-1984) and finally, full-pledged Coordinator (1985-1986 and 1988-2004). SG also served as a volunteer staff of Richard J. Gordon when the latter became Chairman of the Subic Bay Metropolitan Authority (1992-2008). She also actively participated in hosting preparations for the 1996 APEC Summit in Subic Bay. From 1995 to 2004, she was appointed as Acting City Administrator, in concurrent capacity, assisting in the coordination of the work of all the departments under the direction of the Chief Executive. In 2004, SG Zavalla served as Director for the Office of Senator Gordon and handled the development and social projects of the office and did coordination works with various agencies and individuals as necessary.
SG Zavalla continues to steer the program development of PRC services particularly in the areas of Blood, Safety, Disaster Management, Health, WASH, Welfare, Volunteer Services, and Red Cross Youth. With the PRC Tower, PRC's acquisition of its Humanitarian Ship-the M/V PRC Amazing Grace, 150 ambulance units, vehicles, heavy equipment, sophisticated tools, chapter buildings and warehouses all over the country, SG Zavalla's role expands along with her responsibilities. In relation to the "Big One" as well as other man-made and natural disasters, she is fully aware of PRC's evolving role in augmentation to government operations vis-à-vis earthquakes, fires, floods, and clearing needs.
SG Zavalla graduated with a Bachelor of Science in Business Administration from the University of the Philippines in Diliman, Quezon City, where she also took Master of Arts in Urban and Regional Planning.