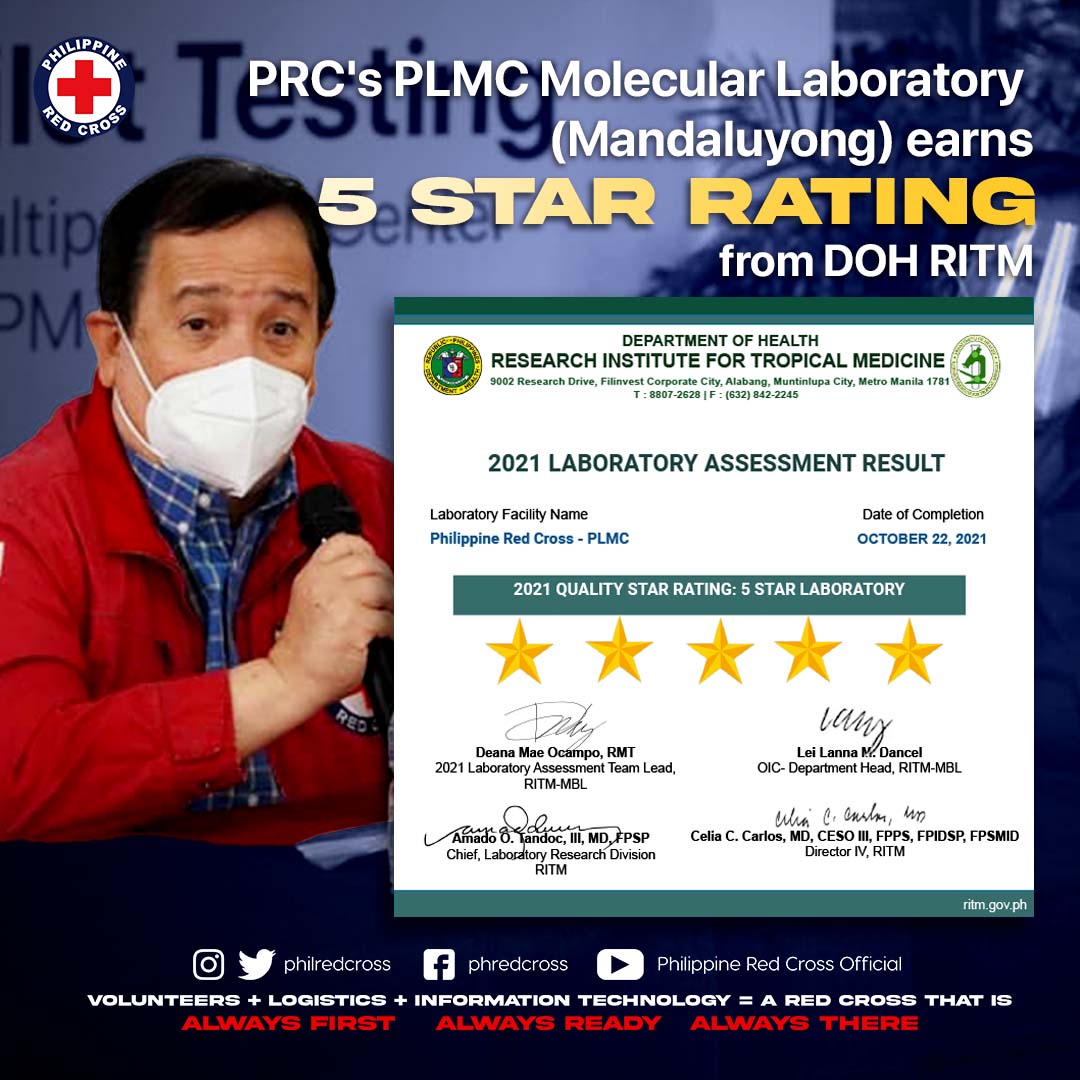 The Philippine Red Cross (PRC) Logistics Multipurpose Center molecular laboratory was awarded a 5-star Quality Rating by DOH RITM for its exceptional performance during the 2021 Quality Assurance Program's (QAP) Annual Laboratory Assessment. This achievement is a testament of PRC's commitment in providing the highest quality of service to all Filipinos.
The RITM Annual Laboratory Assessment is part of the COVID-19 laboratory network QAP which aims to evaluate the quality management systems implemented by the laboratory in compliance to the DOH and World Health Organization (WHO) standards. RITM evaluates the following key results area: Facilities and Workflow, Organizational & Personnel Requirements, Processes and Operating Procedures, Assay Requirements, Laboratory Data Quality and Security, Quality Procedures and Biosafety Practices. Based on the average score garnered, the RITM provides Quality Star ratings wherein 5 stars are provided as the highest and 0 stars being the lowest.
Among the key result areas, PLMC laboratory scored a perfect 100% on its Quality Procedures and has achieved several best practice observations from RITM such as the implementation of a two-factor authentication system prior to accessing the laboratory system to ensure the safety of patient information, the use of facial recognition to prevent unauthorized access in the laboratory, comprehensive troubleshooting guide for lab testing equipment to ensure that delays in the laboratory are minimized and results can be released within the promised turnaround time, and the implementation of quality control charts for internal controls to ensure that all results released are accurate and reliable.
"We have surpassed the 5 million mark in COVID-19 testing at hindi tayo titigil. We test to save lives! Napaka importante ng pagte-test dahil dito natin malalaman kung sino ang mayroon covid, and through testing agad natin mahihiwalay ang positive individuals upang hindi na makapanghawa pa ng iba," PRC Chairman and CEO Sen. Dick Gordon said.
Earlier this year, PLMC also achieved a 100% rating from WHO External Quality Assurance (EQA) Program and the RITM National External Quality Assurance System (NEQAS).
As of today, the PLMC processes saliva samples from NCR and nearby regions and has tested approximately 250,000 saliva samples and 650,000 swab samples since it's opening last April 2020.