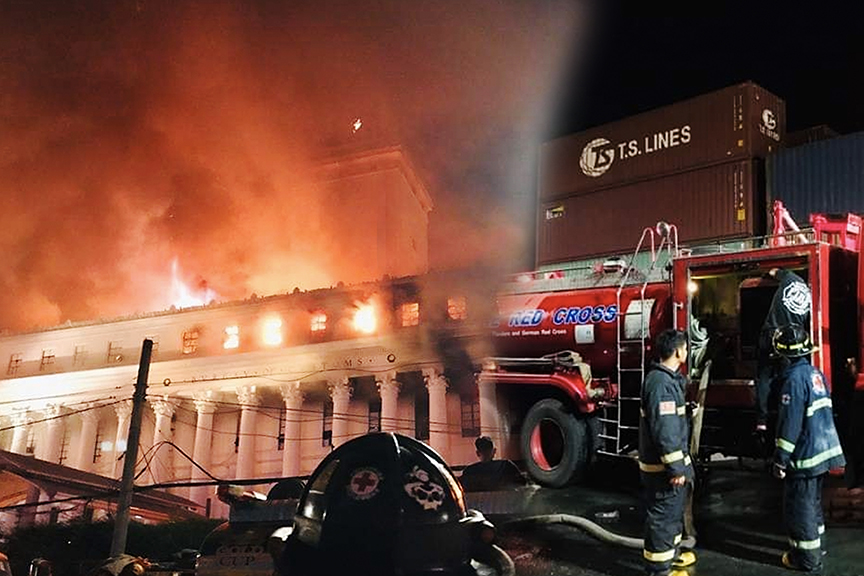 The Philippine Red Cross (PRC) is calling on the public to practice household-level fire safety measures to prevent suffering heavy losses due to fire incidents.
PRC Chairman Richard Gordon reiterated the importance of the organization's 4Ps principle—Predict, Plan, Prepare, Practice—to uphold the safety of every family.
"Our fruits of labor and even lives can be wiped away in a snap if we choose to be negligent. Fire safety begins at home. Identify fire hazards in your household and plan out evacuation measures in case of fire emergencies," Gordon said.
The PRC supports the campaign of Bureau of Fire Protection (BFP) to raise fire prevention awareness throughout the month of March, which is said to have the most number of fire incidents due to the peaking of temperatures.
This year's theme, "Ligtas na Pilipinas ating Kamtin, Bawat Pamilya ay Sanayin, Kaalaman sa Sunog Ay Palawakin," calls to reduce fire incidents by raising awareness on the community level.
In line with this, PRC reminds the public to practice the following fire prevention tips:
1. Do not smoke in bed.
2. Crush cigarette butts thoroughly before discarding them.
3. Do not throw them into wastebaskets.
4. Keep lighted candles, oil or gas lamps away from curtains and other objects that easily catch fire.
5. Do not store any flammable substances or any volatile liquid in the kitchen and inside dwelling houses. Keep matches and lighters away from children's reach.
6. Do not use open flames for decorations in the house.
7. Extinguish all live charcoals and embers after cooking in the kitchen. Make sure the kitchen is inspected before retiring for the night.
8. Kerosene and gas stoves should be checked for leakage and regularly cleaned. It is best to invest in a quality LPG tank.
9. your electrical installations regularly and have all frayed wiring, damaged sockets, switches and other defective electrical fixtures changed or repaired promptly.
10. All electrical installations, repairs and changes should be undertaken by licensed electricians. Never run electrical cords under rugs.
11. Cords of portable appliances should be as short as possible.
12. Do not overload your electrical circuits by profusely putting extra lights and appliances. Combustible and other flimsy materials should not be placed near bulbs.
In case of emergencies, contact Red Cross hotline 143.
PRC has a fleet of 19 fire trucks that are always first, always ready, and always there to respond to fire emergencies.