Philippine Red Cross Lauded by the Leader of the International Federation of Red Cross and Red Crescent Societies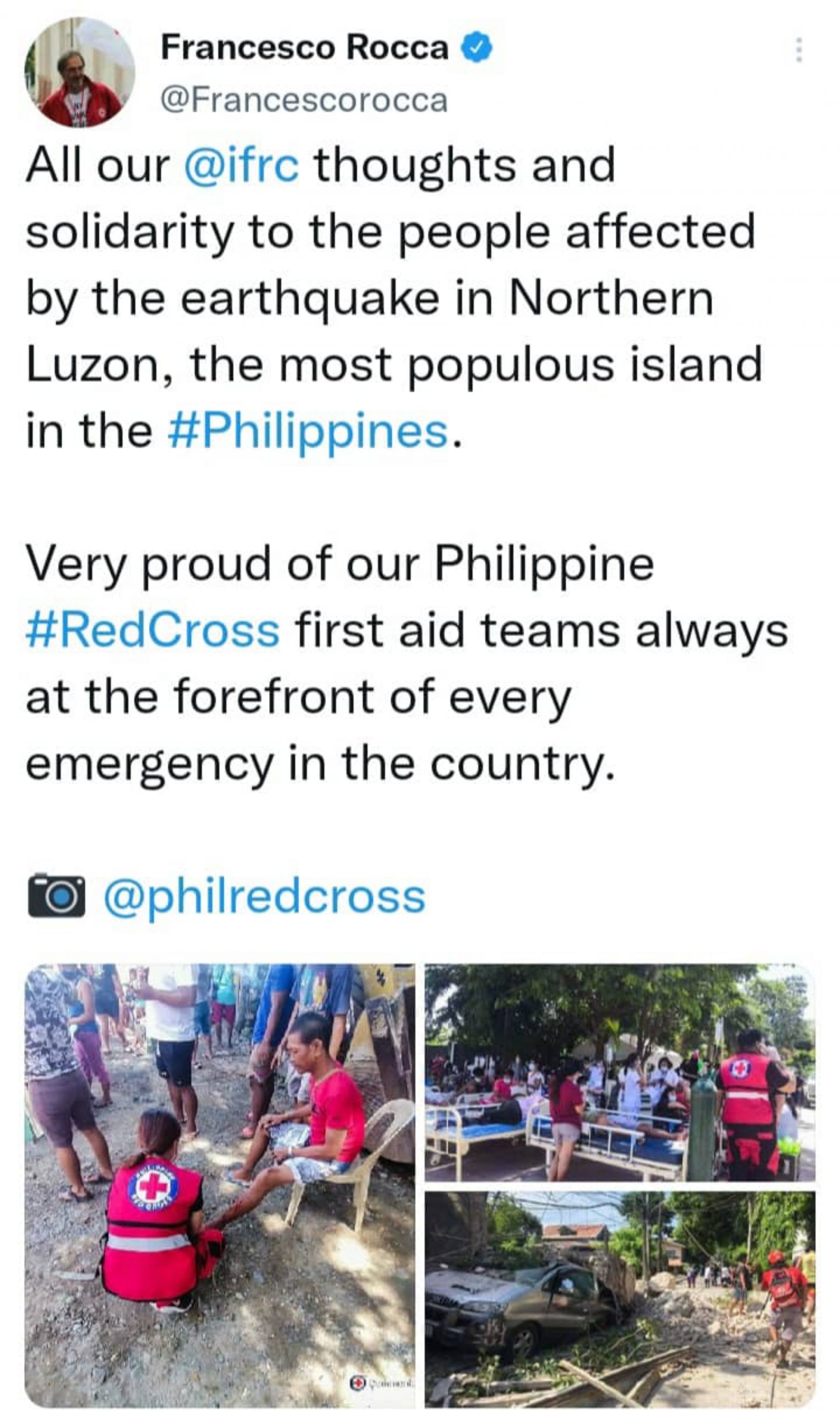 The leader of 14 million volunteers and the International Federation of Red Cross and Red Crescent Societies (IFRC) President Francesco Rocca, acclaimed the role of the Philippine Red Cross (PRC) for its immediate response to the destruction wrought by the 7.0 magnitude earthquake that rocked Northern Luzon on July 27, 2022.
Mr. Rocca praised PRC's First Aid and Emergency Teams for being at the forefront of every emergency in the country. He also conveyed the unity of the IFRC team spirit and expressed solidarity to the people affected by the major quake. Mr. Rocca was very proud that PRC has been doing its utmost to serve all its local communities.
The Chairman and CEO of PRC, Richard J. Gordon thanked him and said, "PRC lives up to its mantra of 'Volunteers + Logistics + Information Technology = A Red Cross that is Always First, Always Ready, and Always There.' This guides us to maintain our fidelity to serve humanity. We have always championed community-level action and we shall continue our efforts in localizing humanitarian responses for all. The 102 Chapters of PRC are always prepared and ready to take necessary actions whenever disaster threatens. Rapid response is crucial when disaster strikes because every minute counts. All our volunteers are aware of this and do their best to perform to the utmost of their abilities."
Mr. Rocca lauded the role of the Philippine Red Cross in its many endeavors to localize humanitarian response and the continuous efforts of its Chairman Richard J. Gordon to take positive action in response to crises. Under Gordon's leadership, PRC continually shows what can be done when humanity and dignity come first, solidified by the will to assist and protect people.