Philippine Red Cross honors FVR as humanitarian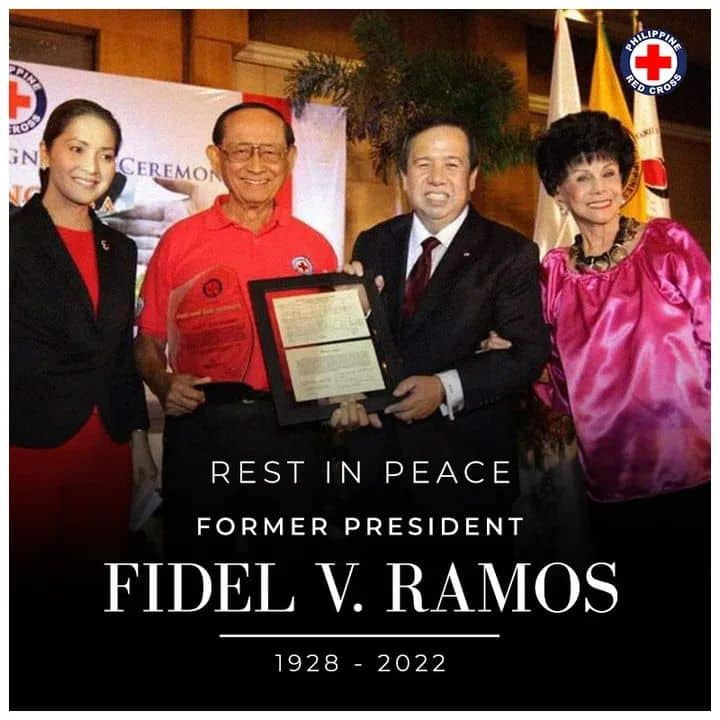 The Philippine Red Cross (PRC) honors former President Fidel V. Ramos (FVR) and commemorates his humanitarian legacy even as PRC mourns with his family at his passing.
FVR consistently supported PRCs's disaster responses, most notably the Mt. Pinatubo Eruption (1991) Response and the Magnitude 7.8 Earthquake (1990) Response in Cabanatuan and Baguio.
PRC Chairman Richard J. Gordon attests that, "FVR was not only a decorated soldier but was also a blood galloner. A blood galloner is one who has donated at least one gallon of blood in his lifetime. Being a serviceman, FVR appreciated the value of blood during emergencies and had been a regular donor since 1954. Gordon fondly remembers that FVR was truly an advocate of blood donation and that if it were up to him, he would have kept on donating blood, if not for his age being past the requirement for blood donors. Gordon would then fondly tease FVR that PRC would place his blood in a museum.
Chairman Gordon had the privilege of conferring FVR with the Gold Humanitarian Service Cross Award for his invaluable assistance and generosity to the most vulnerable through the Red Cross.
"FVR may be gone, but his humanitarian spirit will forever live on not only as a memory but as an inspiration to future generations," Gordon says.