Volunteers, The Lifeblood of PRC: A Day of Recognition for PRC Manila Chapter's Volunteers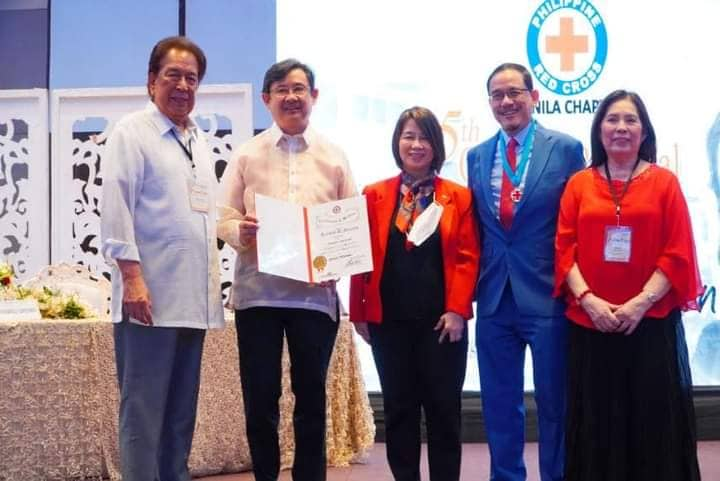 The Philippine Red Cross (PRC) Manila Chapter held its 35th Chapter Biennial Assembly on October 8, 2022 at The Manila Hotel with the theme "7 Dekada, 5 Taon, Iisang Layunin: Buhay Isagip, Alaala Iukit". The event paid homage to the committed volunteers whose exceptional achievements and significant contributions to PRC Manila Chapter paved the way for meaningful and fruitful service to the PRC purpose and mission. As the lifeblood of the organization, volunteers play a vital role in supporting the most vulnerable in communities across the country.

"It is the volunteers and staff that make our ambulances and equipment run, that makes PRC an outstanding society," PRC Chairman and CEO Richard J. Gordon said in his speech.

The PRC Manila Chapter, meanwhile, also elected its new set of Board of Directors (BOD). Together with the new BOD, the volunteers of the PRC Manila Chapter will continue and intensify their efforts to save lives, alleviate human suffering, and uplift the dignity of the most vulnerable. In fulfillment of this commitment, the volunteers, amid disasters and emergencies, vow to dedicate their talent, time, and service to the people.

The 35th Biennial Assembly of PRC Manila Chapter provided an opportunity for the Chairman of its Board of Directors, Hon. Amado Bagatsing, and Governor Leonida (Baby) Ortiz to report on the chapter's activities, achievements, and financial performance. PRC Manila Chapter is one of the most reliable chapters in providing PRC services. Being among the first local chapters to establish the Summer Safety Institute, which offers a variety of courses on PRC services, such as First Aid and Basic Life Support Training and courses from the Water Safety program, the PRC Manila Chapter has been providing assistance to the most vulnerable since its establishment in the 1940s.

Manila Mayor Maria Sheilah (Honey) Honrado Lacuna to PRC Manila Chapter: "Sa loob ng maraming taon ay napatunayan na ng Manila Red Cross ang tunay na kahulugan at kahalagahan ng bolunterismo. Maraming pagkakataon ninyo na ipinakita ang pagmamalasakit sa ating mga kababayan."