Gordon recognizes PRC staff, and volunteers' dedication and continuous efforts to assist injured devotees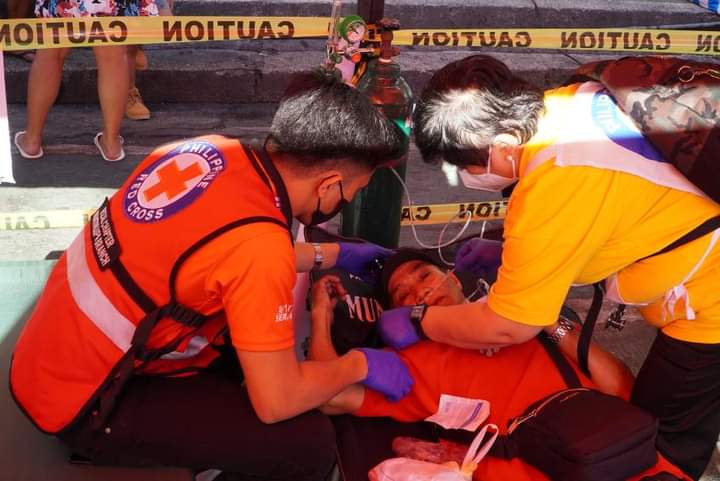 The Philippine Red Cross (PRC) CEO and Chairman Richard J. Gordon praised the hard work and unwavering dedication of PRC staff and volunteers who provided medical services to devotees during the feast period of the Black Nazarene 2023.
Since 8:00 PM of 06 January, the PRC staff and volunteers have been on standby and providing continuous assistance to devotees who needed medical care. In a statement addressed to volunteers and staff, Chairman Gordon said "The Philippine Red Cross is able to serve and assist the devotees of the Black Nazarene Feast because of the volunteers and staff who have been working day and night since January 06. They brave the night and cold weather to attend to the needs of our people. Tunay na maasahan ang ating PRC volunteers, staff, and medical teams sa mga ganitong pagkakataon. Patuloy tayong aalalay sa mga deboto hanggang matapos ang Black Nazarene Feast."
PRC Secretary General Gwendolyn T. Pang, meanwhile, similarly lauded the commitment of volunteers and staff. "I am proud of the volunteers and staff who dedicated their time to serve our kababayans in one of the most celebrated feasts in Philippine history. It is our collective effort that made our operation a successful one," said Secretary General Pang.
As of 9:00 AM, 09 January, 461 devotees received medical assistance from PRC ambulance teams, volunteer doctors, and first aid stations, 417 of whom underwent blood pressure tests while 42 with minor injuries (e.g., abrasion, sprain, chest pain, contusion, abdominal pain, and nausea) received first aid treatment.
The PRC Emergency Medical Unit (EMU) served seven devotees with minor bruises and transported one patient who experienced chest pain and breathing problems to Philippine General Hospital (PGH) for further medical assessment. In addition to medical services, the PRC also provided Psychological First Aid (PFA) to two individuals attending the feast.