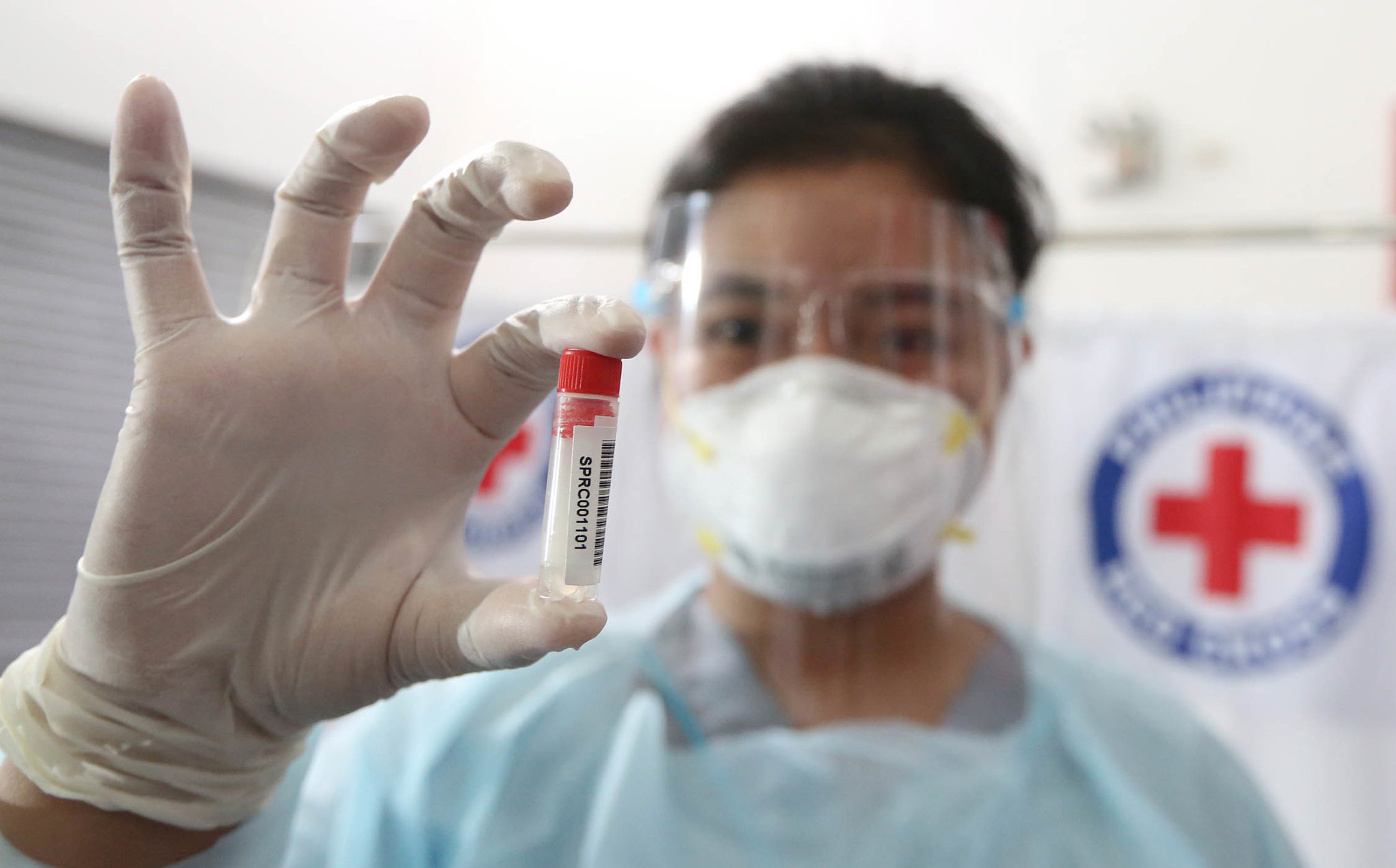 Saliva RT-PCR Test
The Department of Health (DOH) recently gave Philippine Red Cross (PRC) the green light to use saliva tests in detecting Covid-19.
This means the cheaper and less invasive saliva-based Covid-19 test – an alternative to the real-time reverse transcription-polymerase chain reaction (RT-PCR) swab tests – can already be offered to the public.
PRC's saliva Covid-19 test costs P1,500 while the RT-PCR test costs around P3,800 to P5,000.
Countries like the United States, Singapore, Hong Kong, Taiwan, and Japan have either approved or have been using this method of using saliva samples to test for SARS-CoV-2, the new coronavirus that causes respiratory illness Covid-19, as an alternative to RT-PCR test, which is still considered the gold standard in coronavirus detection.
How is it done?
Compared to the nasopharyngeal swab, wherein a sterile swab is inserted through a nostril and into the nasopharynx, the saliva test is considered less invasive, therefore, less painful if not totally painless.
Patients only have to spit into a sterile vial that will then be submitted to a PCR laboratory for analysis. According to Senator Richard Gordon, who also chairs PRC, the result of a saliva Covid-19 test just takes few hours.
But Gordon reminded the public there are some guidelines that should be followed before undergoing the saliva test.
"Do not drink any liquid…eat, brush teeth, gargle, smoke tobacco half an hour before the test," he said in a television interview over ABS-CBN News Channel.
How accurate is it?
According to PRC lead researcher Michael Tee, the saliva Covid-19 test's accuracy rate is 98.23 percent.
In an earlier statement, PRC biomolecular laboratories chief Paulyn Ubial said their study showed that the saliva-based test was 98.11 percent accurate in testing for coronavirus.
On the other hand, the RT-PCR swab test has a 99-percent accuracy rate.
"Sa calculation po namin, although nagtatalo pa ang mga statistician at mga doctor at this point—mamayang hapon namin ipe-present sa Covid lab expert panel ng Department of Health—meron pong accuracy ang saliva versus the swab of 98.11 percent," Ubial said over ABS-CBN's Teleradyo on January 20.
(Based on our calculation, although it is still being debated by statisticians and doctors at this point, the accuracy of saliva test versus swab test is 98.11 percent. We will present these findings to the Covid lab expert panel of the DOH later in the afternoon.)
On August 15 last year, the U.S. Food and Drug Administration (FDA) issued an emergency use authorization (EUA) to SalivaDirect – a saliva-based method of Covid-19 testing developed at the Yale School of Public Health.
According to Yale, the procedure is "ideal for large-scale testing and offers a number of advantages over traditional testing methods."
Where and how to undergo saliva tests?
People can now avail themselves of the saliva-based test by booking an appointment on the PCR's official website. The tests can be carried out either at the PCR's headquarters in Mandaluyong City or their molecular laboratory in Port Area in Manila.
Prior to booking an appointment, a patient should first answer and submit an e-CIF Form.
Payment for the saliva Covid-19 test should be made online: GCash via PayMongo or GrabPay via PayMongo.
Booking an appointment and filling of E-CIF form is done through the Dashlabs platform.
*Note: Saliva Test appointments are NON-REFUNDABLE except for the following reasons: confirmed double bookings, unserved airport bookings, emergency cases, and humanitarian reasons. For refund requests, please email [email protected] or [email protected]. Rebooking may be accommodated for valid reasons, according to the discretion and availability of the Philippine Red Cross.
*Note: According to IATF guidelines, the Saliva Test may not be used for Outgoing International Passengers.