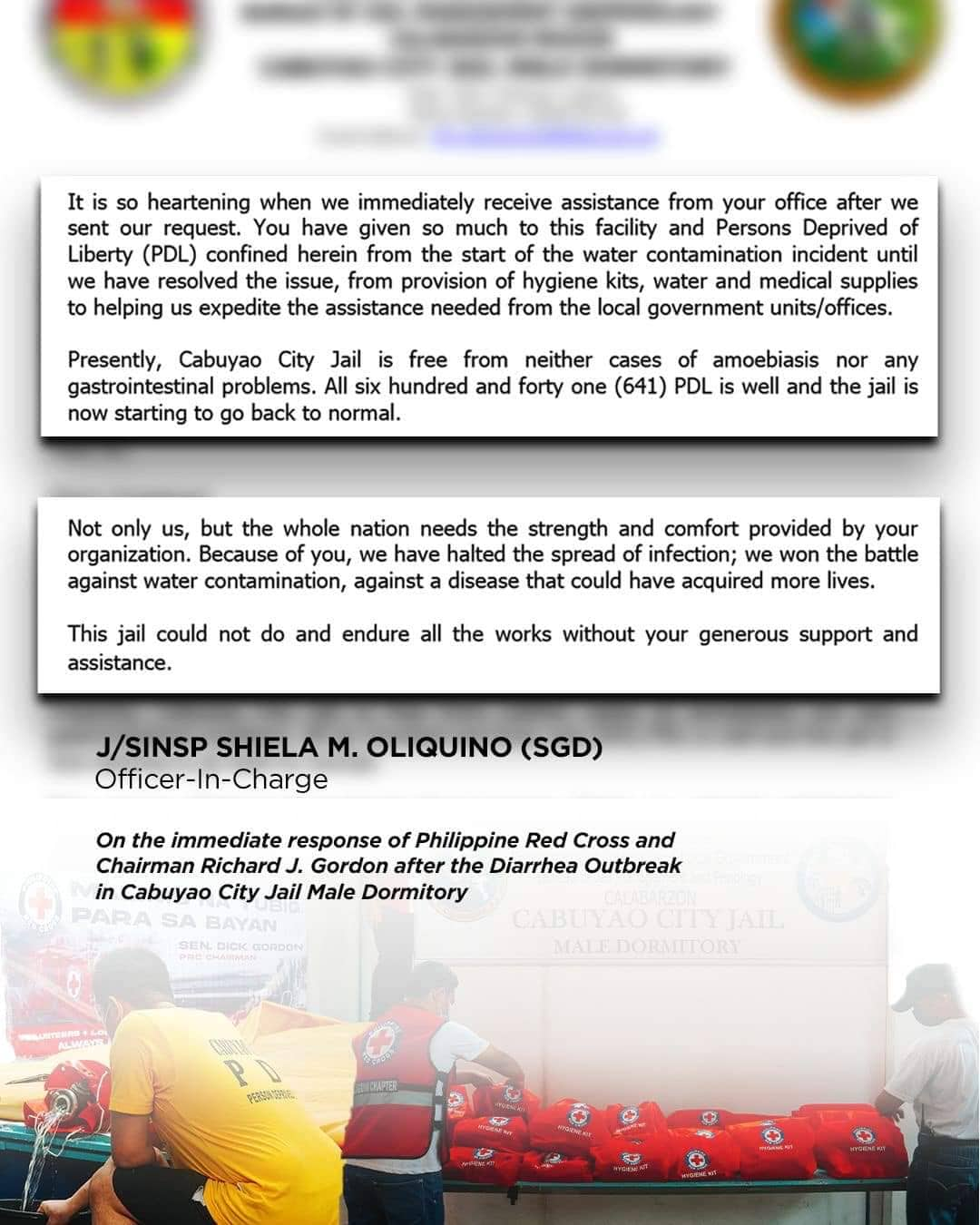 The Cabuyao City Bureau of Jail Management and Penology presented the Philippine Red Cross and its Chairman and CEO Richard Gordon certificates of recognition in connection with the organization's swift response in managing the cases of amoebiasis in Cabuyao City Jail, which affected more than 80 persons deprived of liberty (PDLs).
"Hindi po kami nagdalawang salita at talagang naging napakabilis ng pagdating ng tulong na water tanker ni Red Cross nang malaman nila ang kondisyon ng mga nagkakasakit dito sa Cabuyao BJMP," JSINSP Shiela Moliquino, the City Jail Warden cited.
Chairman Gordon quickly took action after reports from Red Cross Laguna Administrator Frank Sorromero confirmed clustered cases of diarrhea since September 16. The former solon reasoned that, "The goal of our penitentiary is to rehabilitate these individuals with hopes to have them reintegrated into society and given another chance at life – how can we successfully do that if they will feel neglected? Guided by our Red Cross principles of neutrality and impartiality – we should help all who are in need of help. Nakakulong man sila, basta kailangan nila ng tulong, they should be regarded with dignity and given due aid."
The PRC was able to supply 470,000 liters of clean water for the whole jail compound with a population of 657 PDLs and 43 personnel. The bladders were also the only water source while pipes were being disinfected. PDLs were also provided with hygiene kits to keep themselves clean and free from diseases. Chairman Gordon also made sure that the "visitorless" PDLs, or those not being visited by their relatives were also given the much needed supplies to maintain their personal cleanliness.
The jail management expressed its immense gratitude to Chairman Gordon for his swift action and contribution to Cabuyao City Jail until its water contamination issue was resolved, further citing that the Chairman's "work as a leader and a public servant is greatly admired. What you have done and what you will do in the years to come will be valued."