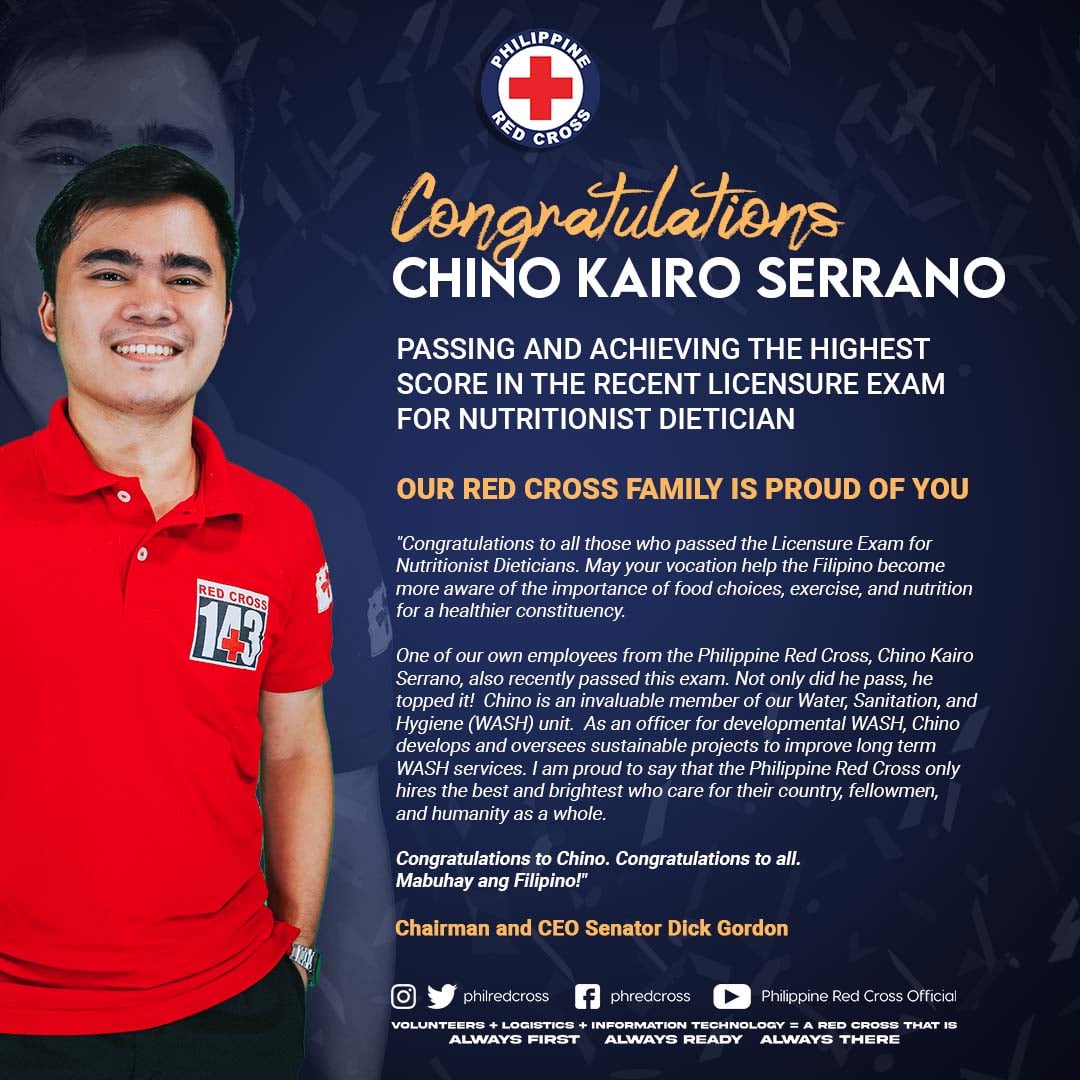 Last week, the Philippine Red Cross (PRC) congratulated its own Mr. Chino Kairo Serrano for ranking first in the recent 2021 Nutritionist Dietician Licensure Exams. In an interview last October 22, 2021, Chino provides some tips for those who aspire to become nutritionist-dieticians.
First, he shared that one should always prioritize and treasure what was learned in college. "I believe that all you have to do is just always do your best. Prioritize the "learnings", and then grades will follow," he said. For him, being in college is the time where one should learn the fundamentals of your program or chosen career path. That is why he made the most out of it by learning everything he could but at the same time making sure to enjoy his college days. He mentioned that the real challenge for him was life after college as he shared that it is different once you are employed. "My current role here in PRC is my first real job. Learning doesn't stop even while at work, so I do my best to learn as much as I can wherever I am," he added.
Secondly, he believes in a strong sense of gratitude. "The most important tip I can provide is to trust in the plans of the Lord," he emphasized. Sharing his thoughts about all the challenges he recently experienced, he said; "I still do not understand a lot of the things that happened to me this year. Aside from the many difficulties our country is facing due to the pandemic and our board exams which was moved to October instead of July, the most difficult was when my mother died three months ago due to COVID-19. Despite these, I didn't stop me from believing that the Lord had plans for me."
For Chino, topping the recent board exams was just a small feat. He continues to learn and evolve, "I remember that even during college, I experienced many drawbacks and turnarounds. Also, I didn't even know that Nutrition was a program when I entered college." Now, he believes that he has come to understand things more clearly, "It turns out that my plans were different from the Lord's plans, but I would like to think that this is the materialization of His plans for that season in my life."
Chino Kairo Serrano is an officer under the PRC Water Sanitation and Hygiene Unit (WASH) working on the Typhoon Response Operations with UNICEF and the WASH project under the International Federation of Red Cross and Red Crescent Societies (IFRC).