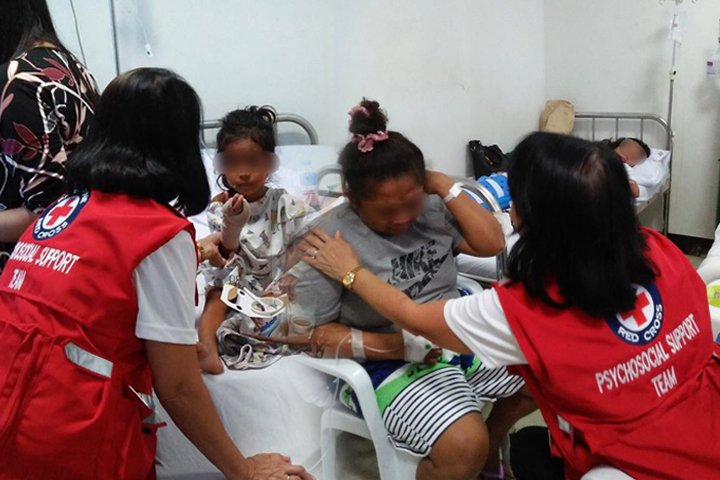 The Philippine Red Cross (PRC) continues to assist communities affected by the magnitude 6.1 earthquake in Porac, Pampanga, including the displaced indigenous people and the survivors of the Chuzon supermarket collapse.
PRC, led by Chairman Richard Gordon, partnered with the Department of Health to provide psychosocial support to the survivors, mostly employees of Chuzon, and bereaved families of the strong earthquake.
"It is important that we work together in this time of need. The Red Cross is supporting government efforts to alleviate the suffering of people who lost their friends and families and the population who were forced to flee their homes regardless of their race," Gordon said.
PRC's welfare teams have conducted psychosocial support to 20 employees of Chuzon supermarket and 12 survivors currently admitted at Julio B. Lingad Memorial Regional Hospital in San Fernando.
A group of volunteers, headed by Deputy Secretary General Dr. Susan Mercado, also reached out to the displaced Aeta community in Porac last April 24 by providing welfare services to 55 families (207 individuals).
"The Aetas refuse to stay in any type of concrete evacuation center as they are traumatized by the shaking. There are also those with pre-existing mental health issues who are further triggered into depression and anxiety," Mercado said in a Facebook post.
Today, the Red Cross is at Sitio Pasubul, Brgy. Camias in Porac to distribute hygiene kits to 60 indigenous families to protect them from infections and diseases. Red Cross also provides psychosocial support to indigenous people.
"We focus on the immediate needs of the most vulnerable and we will continue to provide services with the support of our volunteers and donors," Gordon said.
PRC local chapter earlier provided hot meals to 450 individuals at the Aeta Market evacuation center.