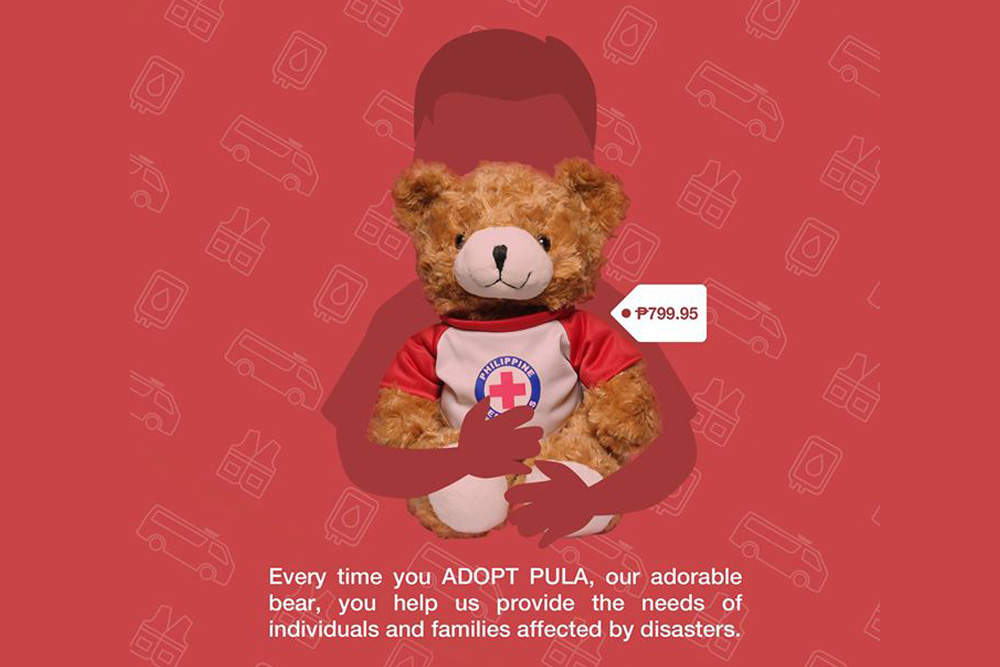 Launched during PRC's tree-lighting ceremony on November 21, Pula was introduced along with a new line of merchandise as part of Philippine Red Cross (PRC)'s holiday gift catalog for the year.
Filipinos are known to have the longest and grandest celebration of Christmas. The "ber" months usually signify the start of the festivities. As the season of giving draws nearer, the Philippine Red Cross (PRC) introduces another reason to remem-"bear" the true spirit of the season which is giving and sharing.
Introducing Pula – a huggable, warm teddy bear which is sure to bring comfort to those who are in need of loving kindness. Pula is a symbol of love, security and treasured memories because bears actually help us remember. Each purchase of this holiday treat will help PRC provide the needs of disaster-affected population.
With the price of Php 799 each, buying one bear will help provide an affected individual with 2-3 days worth of food supplies. Paying for two bears is equivalent to donating a hygiene kit while four bears are worth one mother and newborn kit. Five of these huggable fellows can make one shelter tool kit possible while six Pulas amount to one multi-purpose cash grant for a family.
The launch is part of PRC's efforts to gather more funds to support the various operations being undertaken in connection with recent health emergencies and natural disasters. Families and individuals affected by health emergencies like the outbreaks of measles, dengue and polio, along with the series of earthquakes which rocked regions in Batanes and Mindanao, are in need of steady support as recovery and rehabilitation continue to require manpower resources, supplies, and equipment to complete.