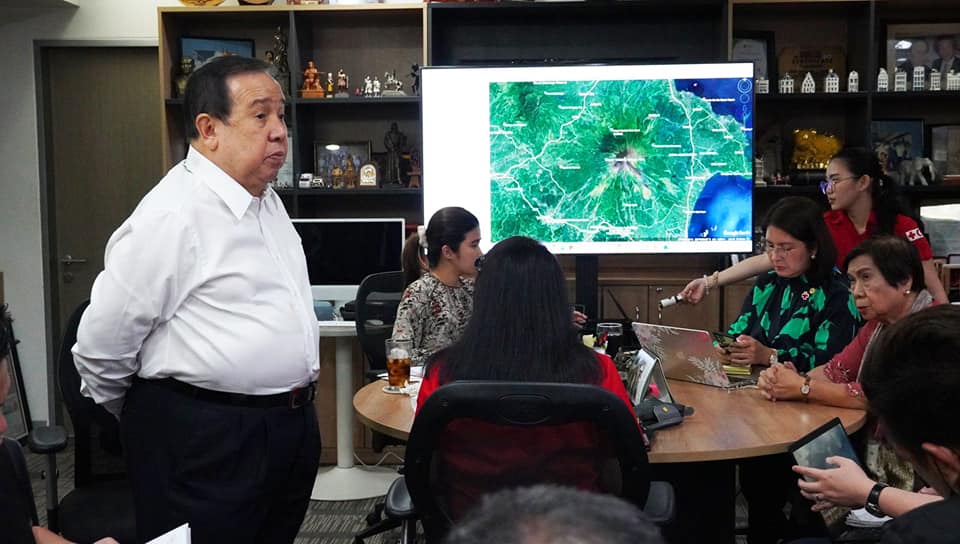 MANDALUYONG City– Philippine Red Cross (PRC) Chairman Richard J. Gordon yesterday directed the humanitarian organization to immediately send assistance to some 10,000 residents living within six kilometers of the permanent danger zones of Mayon Volcano in Albay as the organization launched a wide-scale operation.
The operation, considered one of the largest conducted by PRC, showed the organization's preparedness and immediate response, as it sent a humanitarian caravan at the onset of the Mayon Volcano situation.
Gordon, who is at the helm of PRC since 2005 and a Red Cross volunteer for 54 years, convened his team on Thursday and immediately dispatched a humanitarian caravan after the Philippine Institute of Volcanology and Seismology (PHIVOLCS) raised the alert for Mayon Volcano to level 3, which signifies an "increased tendency towards a hazardous eruption".
PRC is known in the country and even overseas as the foremost humanitarian Philippine organization that is able to respond first in countless rescue and other operations as Gordon led many missions over the years.
Upon Gordon's instruction, PRC sent four water tankers with five water bladders, two water filtration units, and tap stands; four food trucks; two Travis multipurpose vans with health supplies, including goggles; three trucks with 2, 500 sleeping kits and hygiene kits; and a 6×6 truck carrying 2, 500 jerry cans from PRC's Metro Manila warehouse, Subic warehouse, and PRC Batangas Chapter to augment other PRC assets already prepositioned in Albay. The water tankers will ensure the provision of drinking water at the evacuation centers as sulfur dioxide and other chemicals from volcanic ashes may pollute water sources.
"We are always ready and prepared to help. We have tapped our RC143 volunteers in Albay to extend the needed support and our staff are also on the ground," Gordon said.
He added that preparations of this kind are not unusual for PRC. "We are always ready for any situation. It is better to be over prepared in times of crisis so we are sending the humanitarian caravan as early as now to ensure that logistics are prepositioned should the situation in Albay turn worse," the PRC Chairman/CEO said, noting that PRC is guided by the principles of 4Ps: "Predict, Plan, Prepare, Practice" in all its operations.
PRC Secretary-General, Dr. Gwendolyn T. Pang organized the PRC teams to respond at the soonest time to help the residents in Albay.
"Our team is prepared and we are already moving as early as now to ensure that no one will be displaced. Our volunteers and staff in Albay and Batangas stand ready to assist," Dr. Pang said.
Dr. Pang urged communities both in Albay and in Batangas, where Taal Volcano is currently showing signs of increased unrest, to remain alert and observant, as she underscored the importance of always being prepared to alleviate the suffering of people in the affected areas.
PRC Albay Chapter already dispatched its health caravan with trained medical personnel and set up first aid stations, and welfare desks with nebulizers and blood pressure monitors in evacuation centers.