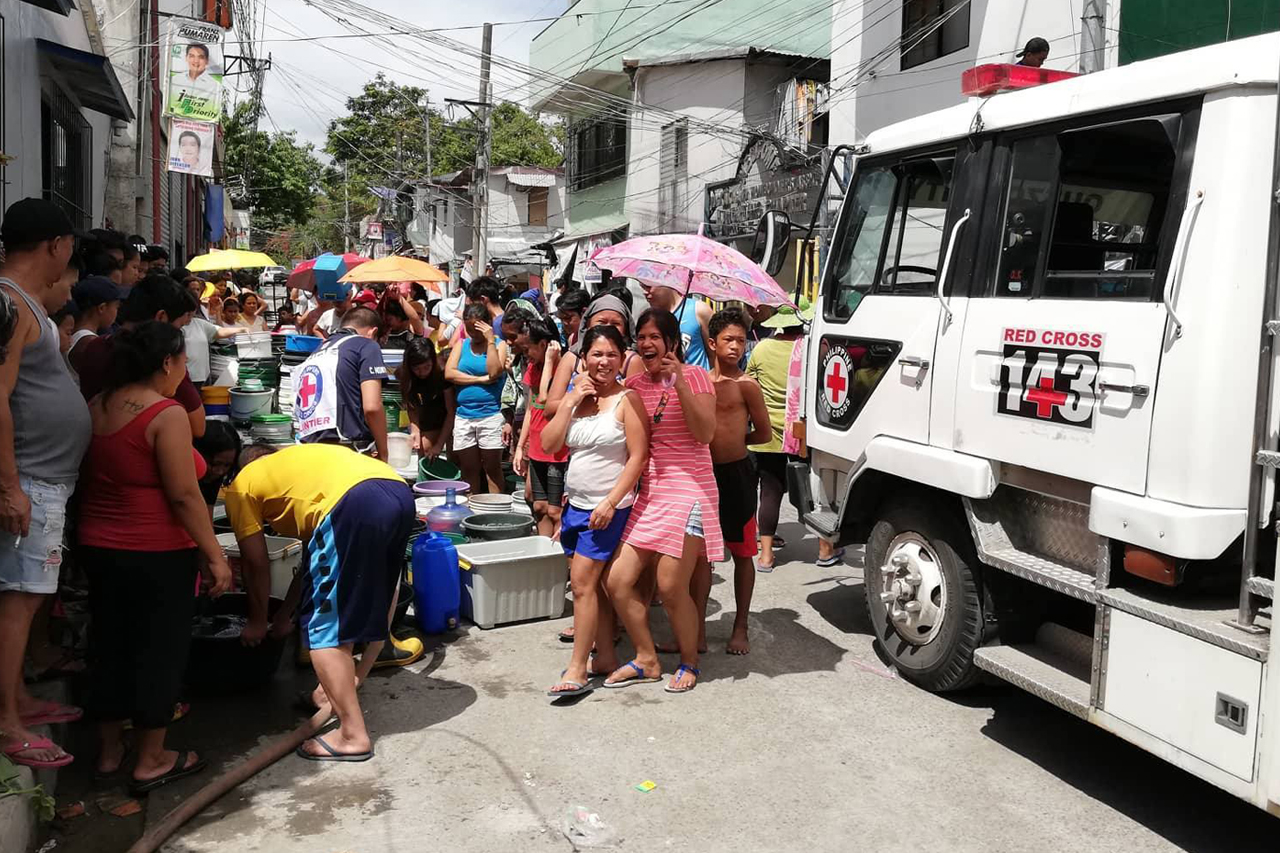 IT ONLY took a week for the Philippine Red Cross (PRC) to address the immediate needs of hospitals and communities heavily affected by the water crisis in Metro Manila.
As of March 17, PRC has distributed 1,033,000 liters of clean and safe water to an estimated 43,000 individuals from Rizal Medical Center, Quirino Memorial Medical Center, National Kidney and Transplant Institute, East Avenue Medical Center, Mandaluyong City Medical Center, and the National Center for Mental Health.
PRC has also started to provide water in communities, including Brgy. Old Balara and Brgy. Culiat in Quezon City; Brgy. Highway Hills in Mandaluyong; and Brgy. Tumana and Brgy. Nangka in Marikina.
Chairman Richard Gordon said PRC earlier prioritized hospitals and medical institutions to ensure that medical services will not be interrupted.
"We received requests from different hospitals and we delivered immediately. The condition in crisis-affected hospitals has now improved, but we are still on standby as this may extend until June. We are now delivering water supply to barangays to prevent health concerns," Gordon said.
Since March 11, a total of eight water tankers were deployed to deliver water in priority areas. PRC's response to the water crisis is the fastest operations in the organization's history.
Meanwhile, PRC raises concern over the improper storage of water, where the use of uncovered containers poses threats of acquiring diseases, such as diarrhea.
"Our water is safe for drinking. But when people use open containers, this can easily be contaminated. The use of proper storage, such as jerry cans with faucets, mitigates the risk of getting sick," Gordon said.
We are calling on the public to help us help more.
You may support PRC's response to the Metro Manila water crisis through the following bank accounts:
Banco De Oro
Account name: Philippine Red Cross
Peso account: 00-4530190938
Dollar account: 10-453-0039482
Swift code: BNORPHMM
Metrobank
Account name: Philippine Red Cross
Peso account: 151-7-15152434-2
Dollar account: 151-2-15100218-2
Swift code: MBTCPHMM
Landbank of the Philippines
Account name: Philippine Red Cross
Account number: 0561-095817
For more information, you may contact Rizza Genil at (02) 790-2410 or Shervi Corpuz at (02) 790-2413 or +639178348378.