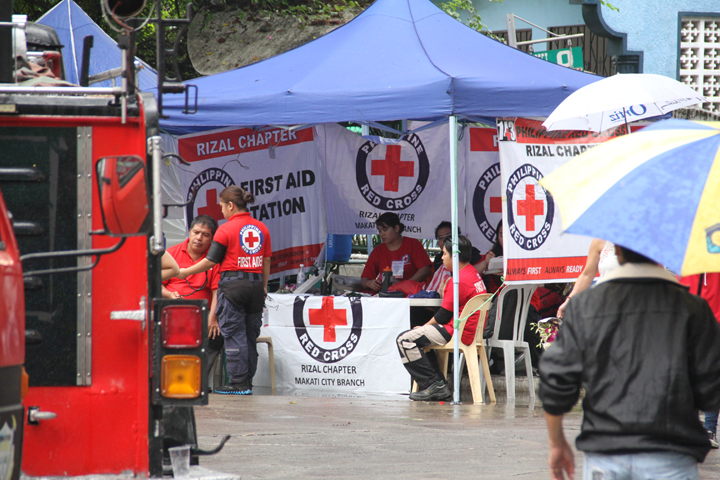 The Philippine Red Cross (PRC) will mobilize 156 ambulances and more than 1, 700 staff and volunteers nationwide in the observance of All Saints and All Souls Days.
PRC will set up 168 first aid stations and 120 welfare desks in 147 cemeteries and memorial parks as well as to major highways including North Luzon Expressway (NLEX) and South Luzon Expressway (SLEX), Tarlac – Pangasinan La Union Expressway (TPLEX), Subic Clark Tarlac Expressway (SCTEX), ports and bus terminals, and beaches.
There will be 39 roving and 117 standby ambulances deployed in strategic places while foot patrollers will be positioned in hard to reach areas like cemetery alleys.
"As always, PRC is in full operation to accommodate everyone, especially our kababayans who will be going home to their respective provinces to visit their departed loved-ones. We want to ensure their safety", said Chairman and CEO Richard Gordon.
Philippine Red Cross functions as a "voluntary, independent and autonomous non-governmental society auxiliary to the authorities of the Republic of the Philippines in the humanitarian field."
Since its founding 72 years ago, PRC has been serving humanity in the areas of disaster management, blood collection and dispensing, welfare, safety, health and hygiene. It also maintains a corps of volunteers and trained youth.
PRC Safety Reminders: • Use a seatbelt. • Wear a helmet on a motorcycle. • Drive at a safe speed and distance suitable for the conditions. • Do not drive under the influence of alcohol or drugs. • Do not use a mobile phone while driving. • Know and respect the highway code. • Maintain vehicle in good condition. • Be visible as a pedestrian or a cyclist. • Know how to react in case of a crash. • Wear loose cotton shirts. • Avoid bringing small children in a cemetery, if necessary, put a small piece of paper with their name and contact details in case they might get lost • If under medication, don't forget to bring your medicines • Avoid bringing easily spoil food • Don't forget to bring drinking water, fans, face towels and umbrellas to avoid dehydration • Remember "BLOW BAGETS" (Breaks, Lights, Oil, Water, Batteries, Air, Gas, Engine, Tires, Self)
For emergency and any untoward incidents, contact our 24/7 Operations Center, dial 143 or 8790-23-00.