Virtual Volunteer App Chronicles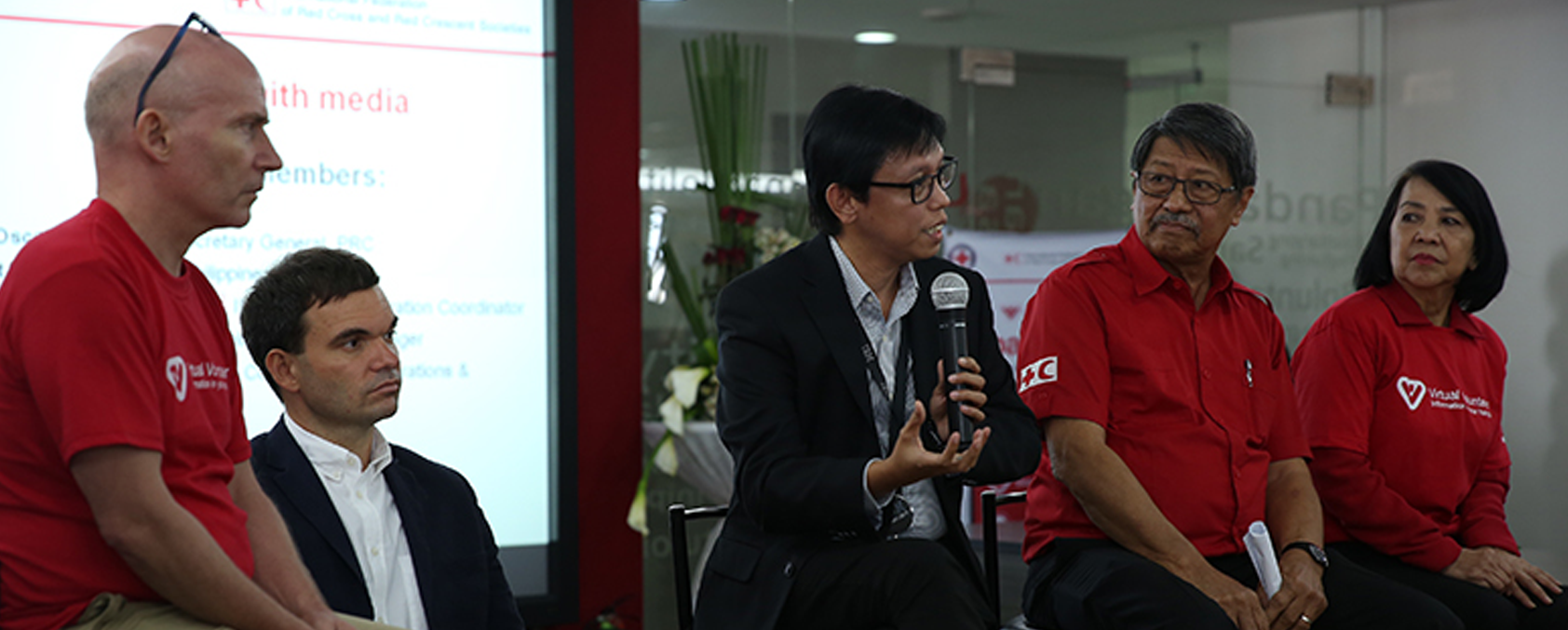 Gabayanihan: Red Cross launches web-based app for labor migrants.
With a growing number of Filipinos choosing to sail and fly in other lands for myriad of reasons— search for permanent settlement, overseas work, or safer or better prospects— the Philippine Red Cross (PRC),together with the International Federation of Red Cross and Red Crescent Societies (IFRC), seeks to decrease the risks of violence, discrimination, exploitation, trafficking, abuse, and illegal recruitment a labor migrant might face. One of the recent efforts of the Red Cross toward this endeavor is the unveiling of the Virtual Volunteer.org on November 27, 2017 in the Philippines. Virtual Volunteer is a web-based platform, that is universally accessible with any connected device, designed to provide useful and reliable information which contributes to keep migrants safe and healthy at all stages of migration. The launch of the said digital guidebook in the Philippines was the first outside Europe, after more than a year it was first piloted in Greece followed by its roll-out in Sweden and Italy. "This is a step in a right direction because it will provide power in the hands of those who want to go abroad. This whole thing is the power of knowledge. We want to give our people—those who want to migrate knowledge on their fingertips. Even before they go, they know already what to do and what to expect." said PRC Secretary General Atty. Oscar P. Palabyab
Virtual Volunteer: Information is Aid
The Red Cross and Red Cross (RCRC) Movement deems that information is a powerful tool that can save lives. Information is vital as much as water, food, medicine, or shelter. Available in nine languages, the Virtual Volunteer has a geolocation feature wherein it identifies sites and contact details of nearest significant agencies that migrants can consult or seek assistance during emergencies or dubious situations.  Organization that were mapped include Red Cross and  Red Crescent National Societies offices, medical institutions,  legal agencies,  non-government organizations, and private entities  that provide support to those who are in need. Losing contact with relatives is one of the risks faced by migrants, with this the Virtual Volunteer has a section for the Restoring Family Links (RFL) program of the RCRC Movement under the "Missing People" tab. Migrants can also access tips and advice about safety and security, health and wellness, and emergency hotlines. Virtual Volunteer for the Filipino migrants With almost two decades of implementing Red Cross programs for migrants, Dr. Zenaida Beltejar, PRC Manager for Welfare Services, immediately perceived that Virtual Volunteer App is one innovative way of solving the continuing challenges experienced by Filipino migrants when it was first introduced to her in a migration conference in Rome, Italy last year. According to the Philippine Statistics Authority, there are 12 million Overseas Filipino Workers (OFWs) worldwide. "We need to extend assistance to the growing number of OFWs and consider them as vulnerable" Beltejar said. Bearing this in mind, Beltejar made the necessary coordination to the IFRC and the PRC leadership. As a result of her initiative, Elena Pedrazinni, Digital Community Engagement and Accountability Officer from IFRC Geneva, conducted a two week visit to the PRC to explore the feasibility of the web-platform in the Philippines. Pedrazinni conducted series of focus group discussions and interviews to migrant groups and made orientation about the web-app to PRC. After Pedrazinni's assessment and thorough discussions and consultations, it was decided that the Virtual Volunteer App will be launched in the Philippines.
Red Cross' move for migrants
For years, the Red Cross has been helping labor migrants who were mistreated abroad and having a difficulty going back home in the Philippines.  Red Cross also has a medical team and and ambulance available for migrant returnees who needed special care. With varying scenarios experienced by migrants and their love ones, the Red Cross also offers psychosocial support and crisis intervention to migrants and their families to cope with adversities and abrupt changes brought by the migration. Having the largest humanitarian network globally, the RCRC Movement as supported by the PRC reconnects ties of people who were deprived of contact with their families through the RFL program and Family Links Network. The Welfare Services, also caters to calls and e-mail inquiries about migrant concerns through the lifeline contact service:
[email protected]
. How to access? 1.) Connect your smartphones, laptops, desktop computers, tablets, or any gadget to the internet. 2.) Visit
www.virtualvolunteer.org
to access pertinent information. 3.) Get help whenever and wherever you need it.