PRC reminds public to prepare ahead of rainy season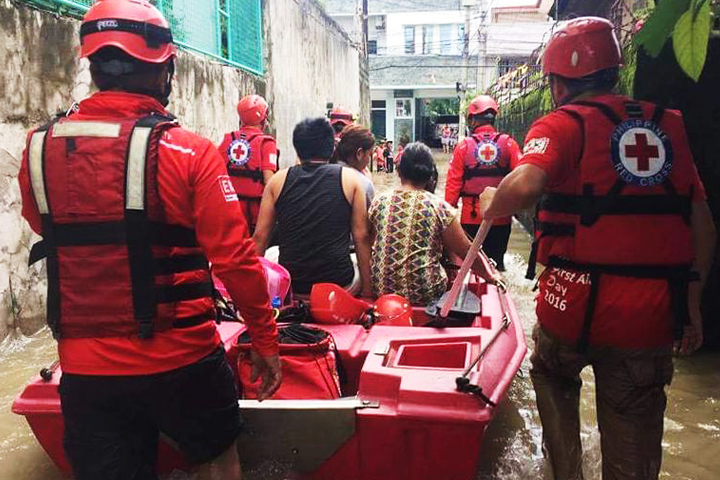 The Philippine Red Cross (PRC) braces for the rainy season as it welcomes the month of June. 
True to its mantra "Logistics + Volunteers + Information Technology= a Red Cross that is Always First, Always Ready, Always There," the PRC is all set to respond to any emergency that may arise due to heavy rains and floods.
PRC advises the public to uphold the organization's 4Ps—Predict, Plan, Prepare and Practice. 
"We urge the public to be more cautious this rainy season. The Philippines sits across the typhoon belt making it prone to powerful storms. We should always be prepared. Everyone should have a 72-hour safety kit which contains food, water, emergency tools, medicines, money and important documents," PRC Chairman and CEO Richard Gordon said.
"We should also maintain proper hygiene and sanitation to avoid acquiring common diseases during this season such as leptospirosis, dengue fever, cholera, sore eyes, diarrhea, colds and flu," Gordon added.
The PRC 143 volunteers in every barangay regularly conducts an evacuation drill to make sure that every person in the community is safe from different calamities they might encounter during rainy season. Flashfloods, landslides, and accidents due to fallen trees and huge billboards are possible during this time.
PRC's response and rescue equipment are strategically positioned for quick response. PRC's warehouses are also well-stocked with food and basic household items in anticipation of relief operations.  
All PRC volunteers are reminded to practice 4 R's- report, record, respond and recognize.
For emergencies, contact our 24/7 Operations Center. Dial 143 or 790-23-00 for assistance.
Assets to mobilize:
2000 staff and volunteers
150 ambulances
9 Hotmeals on Wheels
55 Rescue boats
5 Rescue trucks
101 Generator sets and tower lights
7 Payloaders
8 six by six trucks
2 Amphibians