Philippine Red Cross strengthens its commitment to deliver safe, quality, and adequate blood supply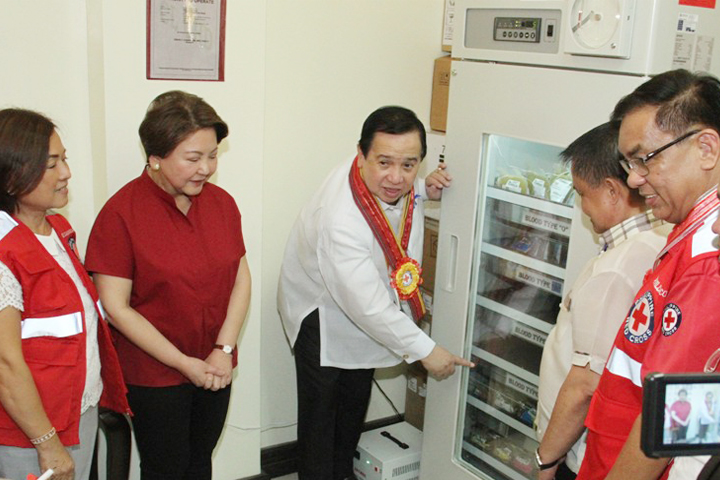 The Philippine Red Cross (PRC) inaugurated its 96th blood service facility in the country in San Rafael, Bulacan, on October 14, a move that fortifies its commitment to deliver safe, quality, and adequate blood supply to Filipinos, notably, to the most vulnerable.
With the opening of this new blood station, PRC Chairman and CEO Richard Gordon said that many lives can be saved, especially now that many parts of the country are experiencing dengue epidemic.
"I'm very proud, and you Bulakeños, should also be proud to have another blood center here in your historical province that will serve the most vulnerable,"Gordon said during his opening remarks.
The P500,000-blood station, which is located in the Ricardo C. Silverio Building inside the new San Rafael Municipal Compound,is the 67th PRC blood collecting unit/bloodstation. It is equipped with a powerful microscope, state-of-the-art cold storage that can accommodate up to 300 units of blood bags, manned by well-trained PRC staff.
In order to save more lives and to meet the demands of Filipinos who are having difficulties acquiring blood, he appealed to the public,including Bulakeños, to regularly donate blood.
"It's our commitment to serve more Filipinos and we aim to create more blood facilities in the future for easier access to quality blood supply. We want to reach the most vulnerable communities in the rural and far-flung areas to ensure that there is safe blood for all," Gordon added.
PRC, as a major provider of blood needs in the country, served a total of 205,772 individuals in 2018.
Gordon also stressed the importance of the Seven Fundamental Principles of Red Cross and Red Crescent Societies that should be observed by PRC staff and volunteers at all times.
Also present during the event were PRC – National Blood Service Director, Dr. Christie Monina M. Nalupta, San Rafael Mayor Cipriano Violago Jr., Bulacan 3rd District Rep. Lorna Silverio, PRC-Bulacan Chapter Administrator Ricardo Villacorte and PRC Bulacan Director and Blood Services Committee Chairman Irmingardo Antonio.