PRC Chairman Richard Gordon urges Red Cross and Red Crescent leaders to intensify partnership amidst challenges in the ASEAN Region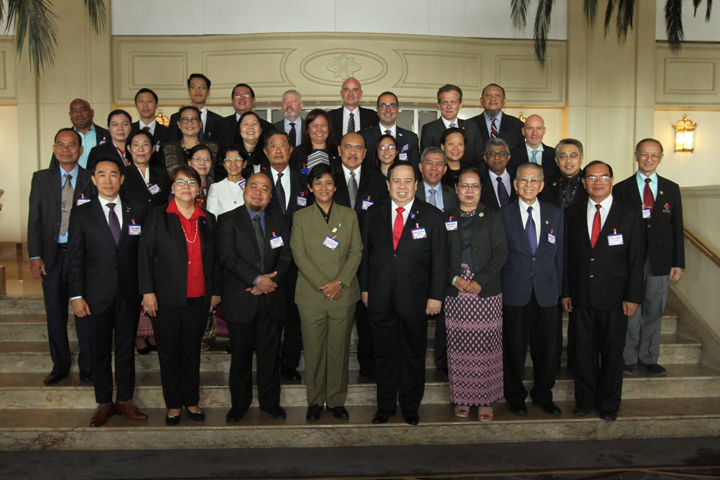 South East Asia Red Cross and Red Crescent Leaders convened in Makati City for the 16th Annual South East Asia Red Cross and Red Crescent Leadership Meeting.
This year's meeting is hosted and chaired by the Philippine Red Cross with the support from the South-East Asia International Federation of Red Cross and Red Crescent Societies (IFRC) Secretariat.
In his opening remarks, PRC Chairman and CEO Richard Gordon emphasized the importance of cooperation and coordination among National Societies in delivering humanitarian services especially in times of emergency situations.
Gordon also stressed the value of knowledge sharing and working together as a family in the midst of challenges that the ASEAN region faces such as typhoons and earthquakes.
"This is a partnership, if we don't exercise the partnership that we all have in the ASEAN region, all the challenges in our region will not be met with the right mix of persistence, of vision, of making sure that we come out with our values, with our courage, commitment and continuity in all the things we try to do," Gordon added.
Aside from catastrophes, Gordon said that the region is battling pandemics and epidemics,such as, dengue, measles and polio, which the Philippine Red Cross is currently addressing by providing auxiliary support to the Philippine government.
He also underlined the importance of unparalleled dedication of the National Red Cross and Red Crescent Societies in helping and uplifting the lives of the most vulnerable during disasters and armed conflicts.
"Red Cross is a vocation, it's a commitment, we are an international humanitarian organization,our fundamental principles make us a strong society because we are values-based and we earn the respect of everyone because there's a Red Cross everywhere in the world", Gordon said.
The leaders discussed the outcome of the previous meeting held on April 10 – 11, 2018 in Melaka, Malaysia, the S.E.A. Leadership side-event meeting of November 2018 in Manila and reviewed other priority agendas such as Reinforcing the Manila Call for Action commitments and regional targets, 1 Billion Coalition and the Asian Coalition for Resilience.
Participating in the two-day conference are leaders, Chairmen, Presidents, and Secretaries-General from IFRC, International Committee of the Red Cross (ICRC), Brunei Darussalam Red Crescent, Cambodian Red Cross, Indonesian Red Cross, Lao Red Cross,Malaysian Red Crescent, Myanmar Red Cross,Singapore Red Cross, Thai Red Cross, Timor-Leste Red Cross, Vietnam Red Cross, and PRC.