Red Cross and other agencies put emphasis on prison health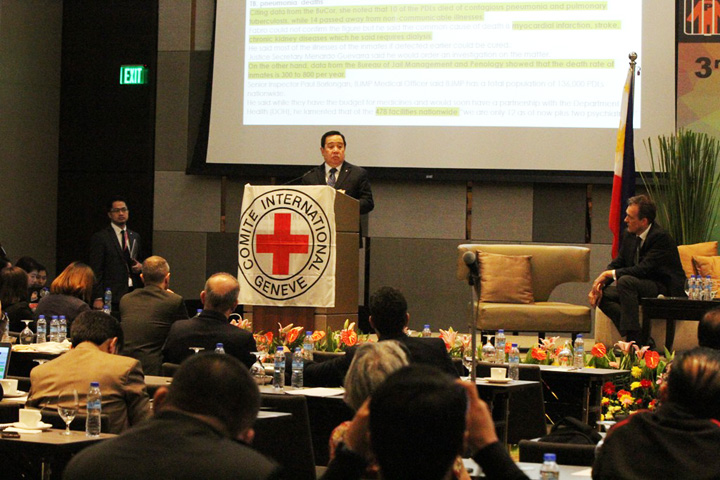 "Red Cross is involved in practically everything, from responding to fire incidents with its fire trucks to medical emergencies with its ambulances. The latest involvement of the Philippine Red Cross (PRC) is a flagship program of the International Committee of the Red Cross – prisons," thus declared PRC and CEO, Sen. Richard Gordon in his opening message to this year's biggest gathering of detention health experts and representatives from justice and health ministries in the Asia Pacific Region.
The 3rd Asia Pacific Prison Health Conference was held November 13-15 at the New World Hotel in Makati City. Aiming to build a network for prison health professionals, the conference is expected to provide a forum for sharing best practices and for finding solutions to various challenges faced by countries on the issue of prison health.
Most countries face the reality of not being able to put community health into prison health and Chairman Gordon proposed to start solving the problem by engaging concerned agencies in the equation, "We can start by saying, let's have a regular meeting and an overview of what is happening in our prisons so that we can do the necessary things, we can monitor everything there. The other thing we can do is to digitalize the records of our prison system."
The 3-day international conference did not only provide an avenue for discussions regarding prison health but also showcased products and artworks crafted by persons deprived of liberty (PDLs).
Chairman Gordon also said that he will involve other senators and congressmen to come up with measures that will put public health and prison health on the same level.
Stressing the urgency of the matter, he further urged the delegates, "We must realize that we cannot do it overnight but we have to have deadlines. We have to monitor our progress regularly. This is the best way to ensure we meet our goals."