PRC launches Help MindaNow: FB Digithon on Emergency Appeal for Mindanao Earthquake Operations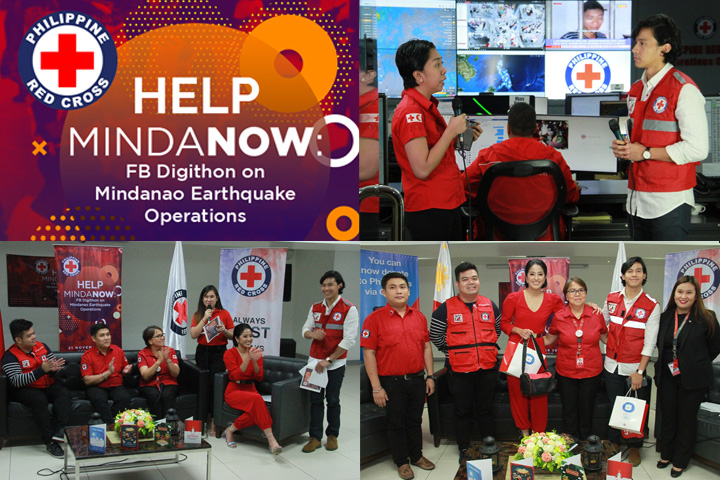 In this day and age, anything is possible with just one click – and that includes sending help to the earthquake-affected population in Mindanao.
On November 21, the Philippine Red Cross (PRC) launched One for Mindanao: FB Digithon an Emergency Appeal for Mindanao Earthquake Operations. Using the power of technology, the live event was hosted and transmitted through social media to invite our countrymen to donate to those affected by the earthquakes in Mindanao.
Our partners and donors have pooled resources to support the affected population, however these are not limitless and funds are needed to replenish stocks as the situation is far from being over. Help is still needed and this digithon aims to bring the much needed aid to Mindanao with just one click of a button.
The goal of the event, which was hosted by Enchong Dee and Gretchen Ho, is to earn Php 3M in one hour. GCash, as one of PRC's donation platforms, supported the fund-raising initiative through the use of its equipment and its official social media accounts which aired the digithon proceedings. (Please note that PRC and individuals do not promote or endorse any network or brand, the organization is open for donors and partners who share the same advocacy – to provide the needs of the most vulnerable.)
"We all have a role to play. And whether we like it or not, our actions affect the world around us. We all can choose to be a little kinder. Be a little more sensitive to the needs of others. Have empathy. Be patient. Help a little more," PRC Chairman and CEO, Sen. Richard Gordon further urged everyone to care enough to share and spread the word on how to help.
The series of devastating earthquakes in the provinces of Mindanao has damaged 8,472 houses, 10 schools and 6 hospitals. A total of 143,700 individuals were affected with 5,761 families being housed in 20 evacuation centers.
PRC has been in the forefront of the operations since the first quake on October 16. Our staff and volunteers on the ground have provided relief with food items, hygiene and sleeping kits. The supply of water was also greatly affected prompting PRC to provide a total of 1.6 M liters of water to affected communities through five water tankers stationed in Mindanao. More help is needed and the public can do its share. Let us all participate in the relief effort.