Philippine Red Cross lauds volunteers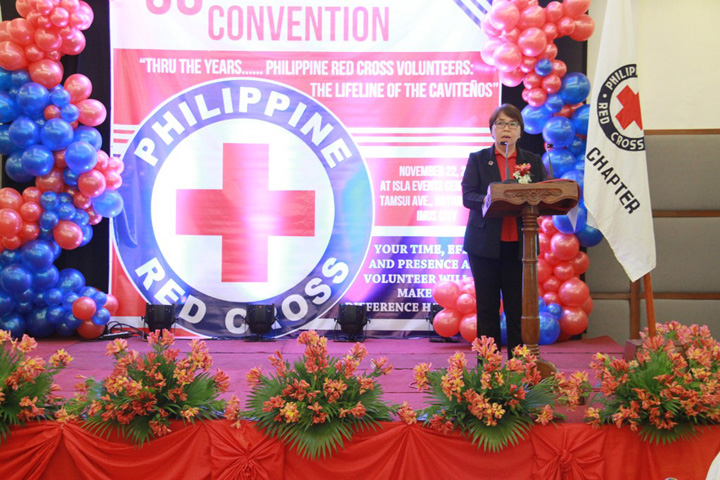 The Philippine Red Cross (PRC) Cavite Chapter held its 30th Biennial Convention on November 22, 2019 in Imus, Cavite with the theme "Thru the years…Philippine Red Cross Volunteers: The Lifeline of the Cavitenos.
PRC Cavite Chapter volunteers, like their counterparts throughout the country, are committed to alleviate human suffering and uplift human dignity. In fulfillment of this commitment, these volunteers give their time, effort and energy making them an integral part of PRC's projects and responses whether these are for natural disasters or man-made emergency situations. Volunteers are a vital component of PRC.
"PRC salutes all the untiring volunteers who made a commitment in alleviating human suffering and uplifting one's dignity. They are extremely important component of the organization", said PRC Chairman and CEO Richard Gordon.
The 30th Biennial Convention of PRC-Cavite Chapter provided the occasion for the Chairman of its Board of Directors, Governor Gilbert Cesar Remulla to report on the chapter's accomplishments, activities and financial performance. PRC-Cavite Chapter is one of the more reliable chapters in providing PRC's services particularly in the areas of blood services and First Aid and Basic Life Support. Consistently ranked as one of the top 20 chapters, PRC- Cavite has been helping the most vulnerable since its establishment in August 1945.
PRC Secretary General Elizabeth Zavalla to Cavite Chapter: "Cavite is not only the land of the brave, but the home of the many selfless men and women like you and many more others who are working for our organization to really make it the partner of choice and really the lifeline of the people".
The oath-taking of the newly-elected board of directors of the Cavite Chapter was led by PRC Governor Corazon Alma de Leon.