RED CROSS NEVER STOPS IN ASSISTING MARING STRICKEN COMMUNITIES IN LA UNION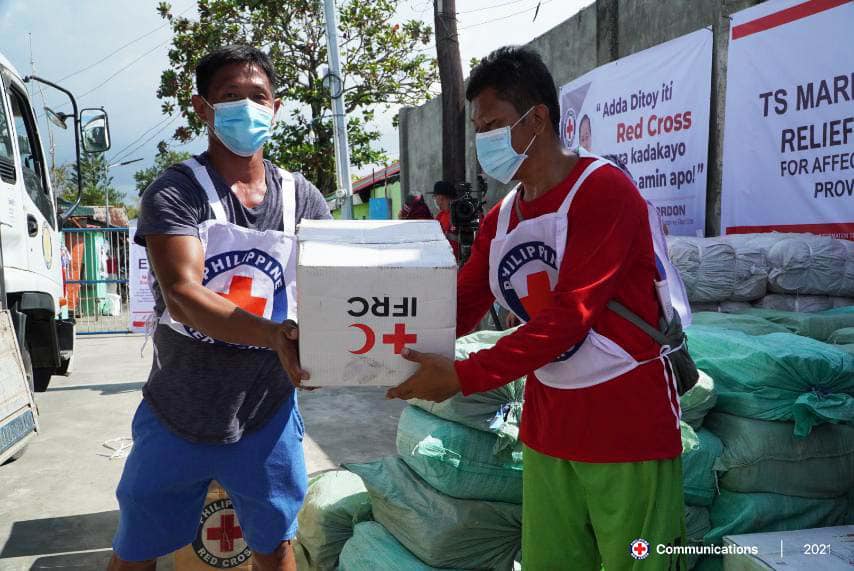 The Philippine Red Cross (PRC) continues to assist La Union weeks after being hit by Severe Tropical Storm (STS) Maring (Kompasu), causing serious flooding in the province.
Last October 15, 2021, the provincial government of La Union declared the province under a state of calamity by Sangguniang Panlalawigan Resolution No. 1413 due to devastation caused by STS Maring.
PRC, headed by PRC Chairman and CEO Sen. Dick Gordon, ordered the immediate deployment of the Humanitarian Caravan to the province at the height of STS Maring. The humanitarian caravan included a 6×6 truck, a rescue boat, a command post, a rescue vehicle, a food truck. Food items were distributed to provide immediate relief to the victims. These included 350 kilos of rice, one hundred cans of sardines, one hundred cans of beef loaf, and one hundred cans of tuna.
STS Maring affected ten provinces, 127 municipalities, and 1,920 barangays, composed of 100,241 families or 400,401 individuals. PRC, through its chapters, assisted the affected barangays in rescue and relief operations, including in La Union, which was severely hit, damaging PHP369.3 million worth of agricultural products.
PRC provided the province of La Union with 1,839 bottles of water, 649 sets of clothing, 331 Kitchen sets, 331 Plastic Mats, 1000 Mosquito Nets, 1,000 Jerry Cans, and 1,000 blankets for 500 families.
PRC also provided hot meals to 6,226 individuals, psychosocial support, a child-friendly space to 167 individuals, and first aid management to 276 individual. Despite the ongoing pandemic, PRC also distributed 1,347 face masks, 550 hygiene kits, and conducted hygiene promotion for 610 individuals to ensure the safety of the beneficiaries.
"Hindi natin papabayaan ang mga taong nangangailangan ng tulong lalo na sa panahon ng pandemya. Kaya patuloy ang Philippine Red Cross sa pagtulong sa mga most vulnerable upang mabawasan ang kanilang paghihirap," Sen. Dick Gordon said.
PRC relief operations are still ongoing as of October 25, 2021, to provide immediate assistance to affected families by STS Maring nationwide.