PRC CELEBRATES WORLD WATER DAY 2022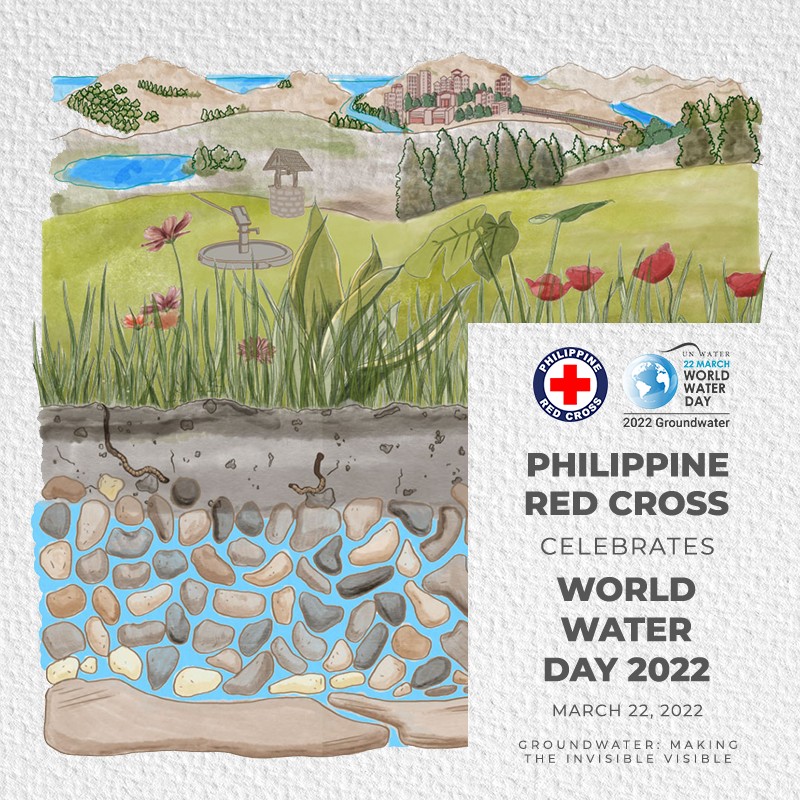 The Philippine Red Cross (PRC) celebrates World Water Day (WWD) 2022 to raise awareness of the 2.2 billion people living without access to safe water. WWD is about taking action to tackle the global water crisis and achieving Sustainable Development Goal 6: Water and sanitation for all by 2030. It is one of 17 Sustainable Development Goals established by the United Nations General Assembly in 2015.
WWD has been celebrated annually since 1993 after the United Nations (UN) Conference on Environment and Development held in Rio de Janeiro, Brazil, in June 1992 chose the date March 22 as World Water Day. Every year, the UN selects a specific theme for the WWD to reflect different aspects of water. This international event looks to draw the attention of people from around the world to the importance of water resources, especially freshwater, and help enhance the sustainable management of these valuable resources. The theme of WWD 2022 is Ground Water, Making the Invisible, Visible. Beyond the issues of pricing, this topic includes the environmental, social, and cultural value placed on the water.
PRC Chairman and CEO Sen. Dick Gordon highlight the importance of providing access to safe water, especially in those areas affected by the different calamities and disasters.
"As we celebrate World Water Day 2022, I would like to emphasize the importance of freshwater, where we use it in supporting drinking water supplies, sanitation systems, farming, industry, and ecosystems. We must protect groundwater from pollution and use it sustainably, balancing the needs of people and the vital role of groundwater in our daily lives."
PRC has been active in providing water to disaster-affected areas to bring back the lifelines in the provinces where people still do not have access to clean and potable water. Recently, during the Typhoon Odette operations, PRC provided over 14 million liters of clean water and promoted proper hygiene to 239,526 individuals.
The WASH Unit of the Philippine Red Cross is an office that provides services associated with addressing the need for access to clean and safe water, sanitation facilities, and hygiene education during an emergency and non-emergency responses.