GORDON WARNS OF A POSSIBLE SURGE: URGES THE PUBLIC TO GET VACCINATED AND TESTED REGULARLY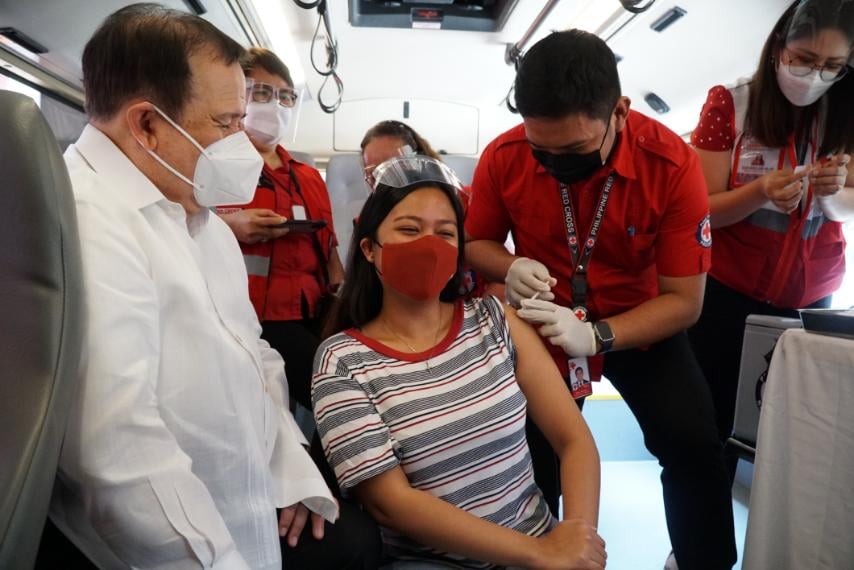 Philippine Red Cross (PRC) Chairman and CEO Sen. Dick Gordon urged the public to get tested regularly for early detection to prevent transmission and to also get vaccinated or receive booster shots for added protection. Gordon also said that PRC is prepared for any possibility of a surge since there are PRC Molecular Laboratories, Bakuna Centers, Bakuna Buses, Isolation Facilities, and Emergency Field Hospitals available 24/7.
"Tumataas ang kaso ng COVID-19 cases sa ibang bansa, we must be ready for any possible surge. We must prevent it through practicing health and safety protocols, social distancing, sanitizing your hands, getting vaccinated, and being tested regularly for early protection," Gordon said.
Through PRC's 14 molecular laboratories, anyone can get tested and avail of the cheapest RT-PCR test in the country priced at only P1,500 for the saliva RT-PCR test and just P2,800 for the swab RT-PCR test. The saliva and swab RT-PCR tests are considered the gold standard for COVID-19 testing.
PRC also continues to deploy its Bakuna Buses to remote areas and has a continuous operations program for their Bakuna Centers to inoculate unvaccinated individuals and provide additional protection through booster shots. To date, PRC has already conducted 5,515,453 tests and administered 1,104,478 doses of Covid-19 vaccines.
PRC has also turned unused classrooms into isolation facilities to accommodate asymptomatic spreaders. There are also PRC emergency field hospitals to serve as extension wards for other hospitals to accommodate any overflow of COVID-19 patients. The initiative of the Red Cross was started last April 2021, to provide assistance to the overwhelmed healthcare system in the country due to the increasing number of COVID-19 positive individuals at that time. Since then, PRC has cared for 5,176 individuals in the isolation facilities and 65,856 individuals in the emergency field hospitals and medical tents.