PH Red Cross gets 10 Million Pesos from Congress to aid quake-stricken Türkiye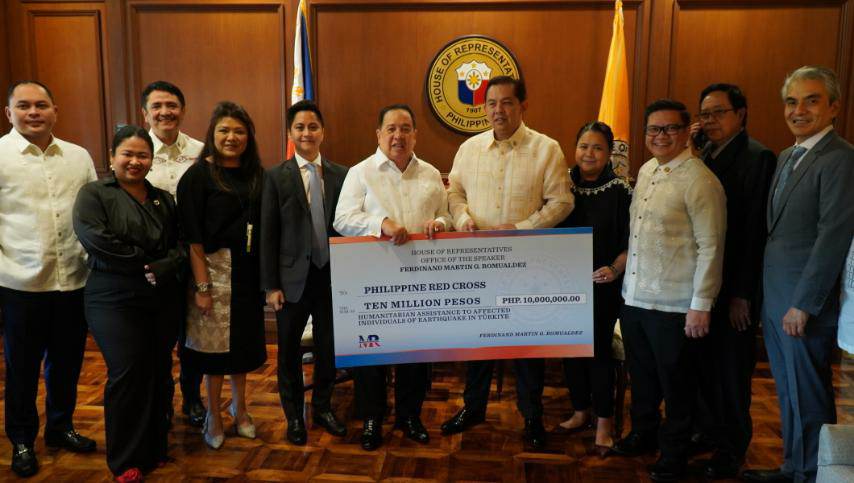 Quezon City – The Philippine Red Cross (PRC) was asked by the Embassy of the Republic of Türkiye to assist in the donation efforts for the quake-hit country. To honor this request, PRC appealed to Filipinos to help our Turkish brothers and sisters.
Today, the House of Representatives swiftly responded to the call with a donation that was personally received by PRC Chairman and CEO Richard J. Gordon at the Batasang Pambansa.
In accepting the donation, Chairman Gordon noted that it is fitting that one of the first to answer the call for the Turkey appeal is the House of Representatives, led by Speaker Ferdinan Martin G. Romualdez.
Speaker Romualdez is from Leyte, the province that was badly hit by Haiyan in 2013. During that time, Türkiye was the first to send aid to the Philippines during that time.
"This donation from Congress is a very important gesture to show Türkiye our solidarity as they showed us in Haiyan. The donation is critical, especially during this time because this is the coldest time of the year for the affected regions. We cannot begin to imagine what our Turkish brothers and sisters are going through, those who survived the quake and are left without shelter out in the cold facing freezing conditions," said Chairman and CEO Richard J. Gordon.
PRC Chairman Gordon was accompanied by PRC Governors Carissa Coscolluela and Rachel Arenas during the simple turnover ceremony at the House of Representatives this afternoon.