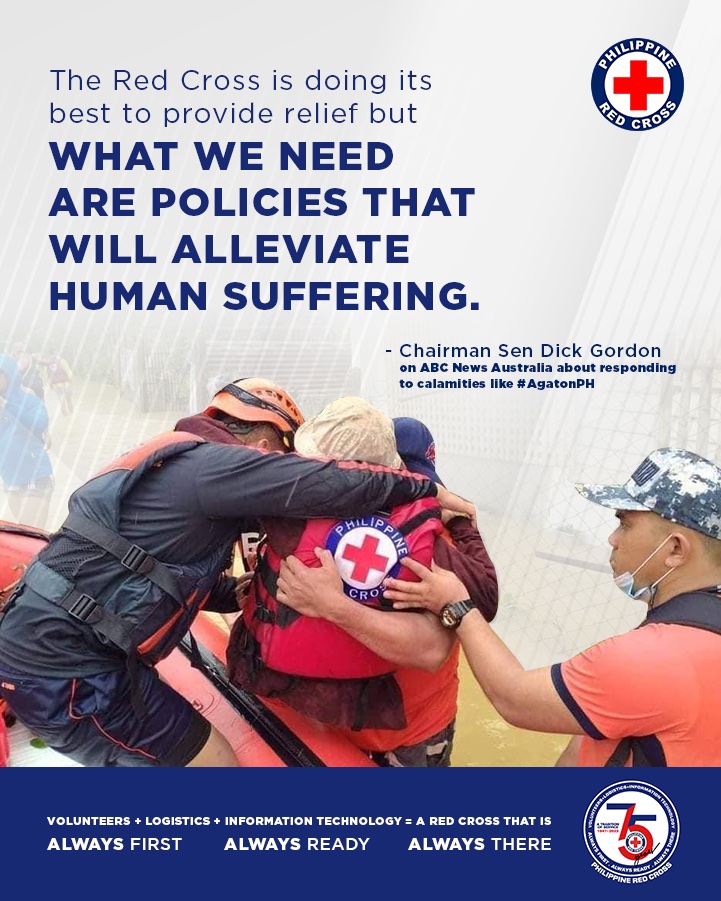 In an interview with ABC Australia on Tropical Storm Agaton (international name: Megi) last April 13, 2022, via Skype, the Philippine Red Cross (PRC) Chairman and CEO, Senator Richard "Dick" Gordon emphasized the need for a long-term plan to make sure people have the option to live in safe areas and not in dangerous ones, such as at the foot of mountains or near oceans. "There has to be a long-term plan, a big sit-down to ensure every province can make some alternatives for the people," Chairman Gordon said.
This is the policy change Gordon wishes to see after the elections, he said when asked whether the campaign season has affected the Philippines' assistance to areas hit by Agaton. He explained that the country will alleviate human suffering by making sure it prevents it by predicting the areas that are prone to disasters and adopting appropriate policies.
The Chairman has been an advocate of a national policy to move people living in dangerous areas to safer places. PRC built homes in a safer place for the survivors of the 2006 landslide in Barangay Guinsaugon, Saint Bernard town in Southern Leyte, which killed around 2,000 people. PRC also built or repaired homes for survivors of Super Typhoon Yolanda (international name: Haiyan), which caused ocean surges as high as six meters and devastated the Eastern Visayas region in 2013. Overall, the PRC has built or repaired 80,000 homes for survivors of calamities in Eastern Visayas.
Chairman Gordon swore that the Red Cross will be helping populations affected by TS Agaton in the long run, as it usually does for survivors of calamities. "The Red Cross will be here for the long haul, as usual," Chairman Gordon said. He mentioned that the PRC is still assisting survivors of Super Typhoon Odette (international name: Rai), which made landfall on Christmas eve of 2021.
Gordon mentioned some preparedness measures that can be adopted, such as having whistles to call for help during calamities, identifying high-risk areas and moving people, and training people especially for landslides. He highlighted the importance of having pre-positioned people and logistics in the regions, such as sirens, flares, pickax, shovel, payloader, torch and other lighting devices that can be used even at night.