Marawi crisis Different faces of conflict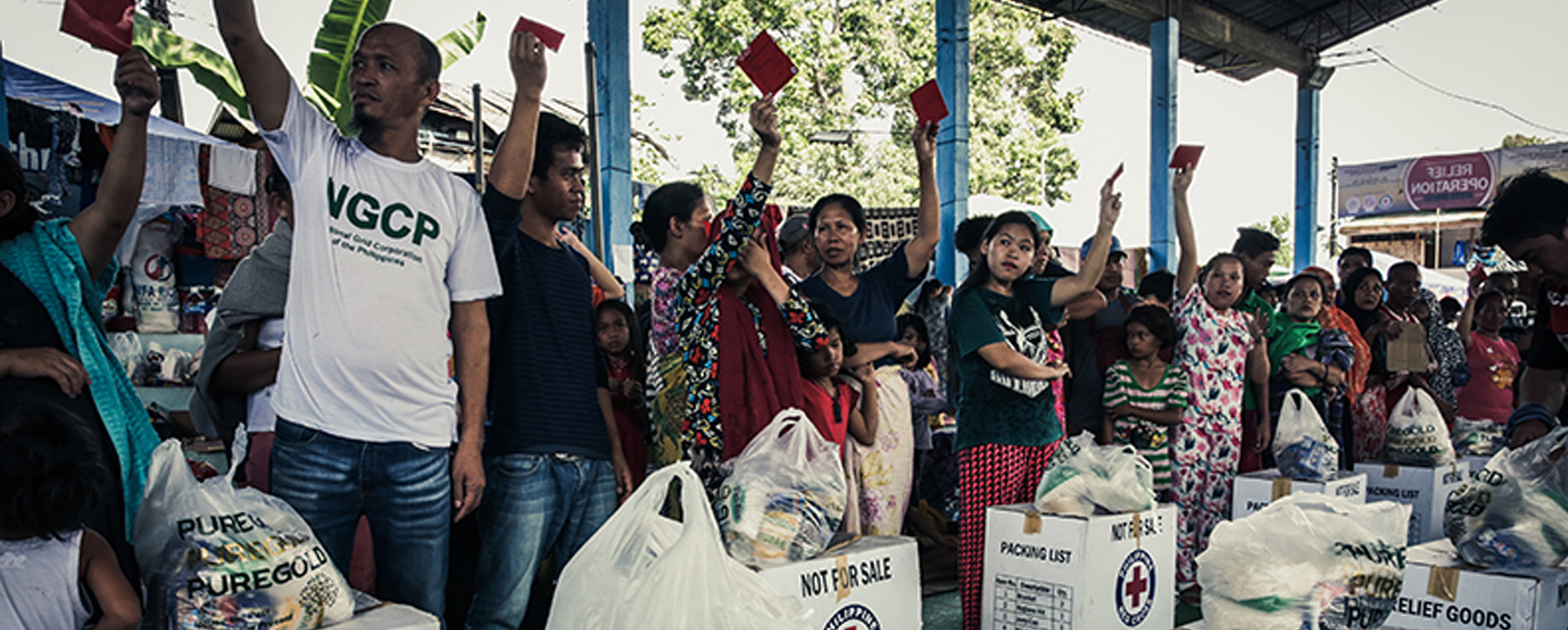 Marawi: Rising from the rubble
For almost five months that Marawi has been besieged by an armed conflict, the city has seen ceaseless gunfights, bombings, and pitched battles that have cost thousands of lives and displaced millions of people. The Philippine Red Cross (PRC) never fails to deliver timely and efficient humanitarian services and uplift the dignity of the affected individuals. Since day one up to the end of the crisis, the PRC always help the most vulnerable to rise up again. In this dark hour, PRC served as the light to our fellow brothers and sisters in Marawi.
Emergency response
 "I texted OPCEN (PRC Operations Center) and Chairman Gordon to inform them about the incident. They replied back to me and asked me to immediately deploy volunteers, but of course, I cannot do that because the volunteers are also victims during that time,"
– Sittie Aliyyah Lomondot-Adiong, Officer-in-Charge of PRC Marawi Chapter

It was May 23, 2017, Sittie Aliyyah Adiong, Officer-in-Charge of PRC Lanao del Sur was in Manila with her family to celebrate her oath taking engagement. On that same day, she received a call from one of the volunteers on ground that an armed group attacked Brgy. Malutlut, Marawi City.
She immediately reported to the PRC Operations Center and PRC Chairman and CEO Richard J. Gordon about the incident. Together with the International Committee of the Red Cross (ICRC), PRC immediately launched an operation in Marawi to help the civilians caught in the crossfire. PRC activated the nearby Chapters in Marawi especially the Iligan Chapter to mobilize its Red Cross 143 volunteers. First aid and welfare desks were set up, while water tankers and ambulances were deployed. Food was identified as the immediate need of the affected families, who fled to nearby provinces. They were immediately provided with food lasting up to 15 days, and hot meals. There were also non-food items provided, like blankets, plastic mats, and mosquito nets.
Silent Heroes
"Right after we evacuated from Amai Pakpak Medical Center (AMPC), I volunteered to the Red Cross to help my fellow brothers and sisters who were affected by the clash,"
– Mary Grace Pagapula-an, Staff Nurse at APMC and Red Cross volunteer for 7 years

It was 4 o'clock in the afternoon when members of the Maute group took over one of the government hospitals in Marawi City, the Amai Pakpak Medical Center (AMPC).
Mary Grace Pagapula-an, a staff nurse of AMPC was on her duty that time and busy attending to the needs of her patients. She and her co-workers already heard news that an armed conflict erupted at around 2pm at Basak Malulut village. But since the locals were used to hearing gunshots in their city, they thought that it's just another ordinary conflict. When the armed men occupied the hospital, it caused panic to all the AMPC staff including the patients who were admitted and civilians inside. Most of the patients wanted to leave the hospital. Despite of fear, Mary Grace still secured the safety of some of the patients and civilians. They hid in the dietary room until the morning of May 24, when the armed group left the area. Mary Grace and all the people who were inside the hospital were rescued and evacuated safely to different nearby evacuation centers. Right after the incident, Mary Grace immediately went to the PRC Iligan Chapter and volunteered as part of the Welfare Team, which is one of the first interventions of the PRC during the onset of the crisis. She is a Red Cross volunteer for almost seven (7) years with different tasks assigned to her like for Safety and Blood Services.
Clean, safe water
"With this kind of support (shower facilities) from the PRC through Chairman Gordon, it provided us great ease and comfort with the ready use water available nearby. Like us, Muslims, we really need access to clean water while staying here in evacuation area; especially we are currently celebrating the Holy Month of Ramadhan. We are sincerely thankful,"
– Jamel Hadji Alawi, one of the IDPs in Saguiaran evacuation center

When Jamel Hadji Alawi knew about the impending encounter in Marawi City, he was at Barangay Guimba that time, away from his five (5) children, who were trapped at Barangay Paypay in Marawi City together with his other family members.
When he heard that the firefight between the government and the members of the Maute group already happening in Barangay Bless, which is close to Guimba, he immediately packed his belongings to evacuate the area. He saw the residents of Barangay Bless rushing out the place as gunshots became ceaseless in the area. Some of them carrying lifeless bodies and wounded civilians. Jamel and other IDPs experienced hardship while evacuating as there were no means of transportation leaving the frightful city. They walked from Barangay Guimba until they reach the municipality of Balo-I, on that same day when the conflict started. Despite all the difficulties Jamel suffered in the midst of the crisis, as a Muslim, he never forgot to observe Ramadhan. As access to safe and clean water and wash facilities are main concerns in different evacuation areas, PRC provided our Muslim brothers and sisters not only access to safe and clean water and WASH facilities but as well as comfort in performing their religious celebration. Part of their ritual is the
Wudu
that is being performed before prayer. This is the ritual washing of one's face, hands, arms, head and feet with water. Jamel outpoured his gratitude to the PRC who provided not only complete relief package but as well as shower facilities, which are much needed by the IDPs especially the Muslims.
Health care
"I am very thankful to the Philippine Red Cross for helping us to provide immediate medical needs for my children,"
– Kareema Macaurao, one of the IDPs at Balo-I evacuation center

Exhausted, sleepless and sick. But Kareema Macaurao was thankful after she and her seven children survived the Marawi siege. After three days of encounter, Kareema, from Old Capitol together with her five (5) children evacuated Marawi City and walked out until they've reached Brgy. Pawak, which is in the municipality of Saguiaran. It was a hard experience for Kareema because she was with her children that time and they were all hungry while travelling out of Marawi City. Out of great fear, they were also unable to bring their personal belongings. All she wanted was to bring her children to a safe place. When they arrived at Balo-I, one of her children was among the evacuees in need of immediate medical attention. Addressing this problem, the PRC in partnership with the ICRC has set up Basic Health Care Unit or BHCU at an evacuation center in Balo-I, Lanao del Norte. IDPs can avail themselves of consultations, treatment and minor surgical cases. BHCU also maintains mini-pharmacy with basic medicines for children, pregnant women and elderly persons.
The Bakwit Children of Marawi
During the Marawi conflict, thousands of individuals have been affected and are staying in several evacuation centers.
Mostly, children suffer from different types of sickness, hunger, and take a heavy baggage especially the trauma they inflicted during the conflict. One of the first interventions of the PRC is by deploying its welfare team to set up welfare desks and provide psychosocial support. PRC's psychosocial support program helps mitigate the impact of disaster and help survivors cope by offering them psychological first-aid, guidance, and counseling. Under PSP, PRC provided "Child Friendly Space" activity designed for children that conduct art therapy, storytelling, and playful games for the affected children. To date more than 33, 700 individuals were provided with psychosocial support. The darkest hour of the Marawi crisis may be over but the bigger challenge of rebuilding the city and its people from the ashes of the armed conflict has yet to begin. To date, thousands of families continue to stay in evacuation centers and are still needing continuous humanitarian aid and support. The road to recovery and healing is a long process ahead but it is not impossible if everyone will lift each other up.