World Red Cross Day: PRC salutes volunteers, partners' love for humanity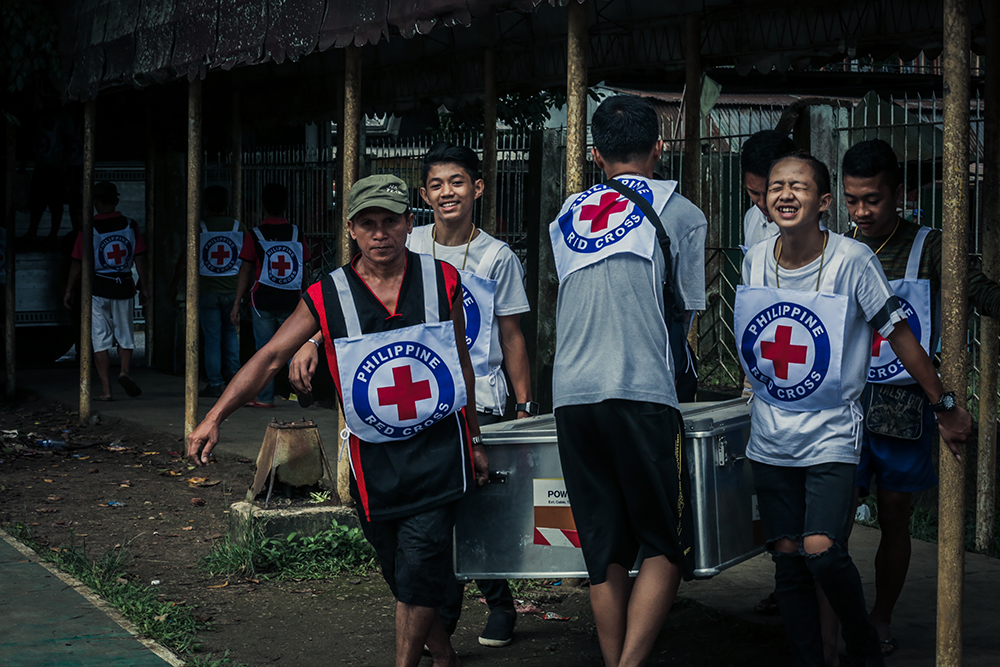 The volunteers and staff of the Philippine Red Cross are celebrating the humanitarian organization's unique relationship with communities across the Philippines, the World Red Cross and Red Crescent Day.
Sen. Richard Gordon, PRC Chairman and CEO, said the volunteers and staff are hard at work every day to address the needs of people hit by disasters and emergencies.
"To our kababayans, let us all thank the unsung heroes of our country—the Red Cross volunteers—and work hand in hand with them to help build resilience in most vulnerable communities. Today, we celebrate the difference they make. Responding to catastrophes of all kinds, changing the lives of the people they serve and helping people to live safely and with dignity," Gordon said.
This year's World RCRC Day carries the theme "Love"—honoring the bravery and achievements of volunteers and staff, whose life-saving and life-changing services ensure that we keep our commitment to humanity every day.
The 156th World RCRC Day coincides with the extended celebration 72nd anniversary of the PRC with the theme, "Resilience," which recognizes staff and volunteers' commitment to help people to prepare for, cope with, and recover from a disaster or crisis.
PRC extends humanitarian services to millions of Filipinos every year with a diverse range of services tailored to the needs of communities across the Philippines. PRC's major services are Disaster Management, Blood, Safety, Welfare, Health, and Red Cross Youth.
"Whether natural or human-made disasters, armed conflict or health and social care issues, Red Cross and Red Crescent volunteers and staff are there to help, without any discrimination," Gordon said.
PRC Secretary General Elizabeth Zavalla said: "The Red Cross has been serving the people of the Philippines even before it was formally established in 1947. "We are everywhere for everyone. This is our commitment to you and our commitment to humanity."
PRC as partner of choice
The joint celebration of the PRC anniversary and the World RCRC Day also honors partners who supported the organization's programs and operations.
The Aurora Aragon Quezon Award will once again be bestowed to five volunteer partners who showed exceptional dedication to the causes of PRC. The awardees are:
•    Former President Fidel Ramos – For actively promoting voluntary blood donation during and after his presidency
•    Dr. James Dy, President of Chinese General Hospital  – For supporting the PRC's programs, including his recent donation of beds and mattresses to be used in measles care units
•    Michael Chen, Executive Director and Chief Executive Officer Minavida de Mindanao Corporation – For providing free aircraft services, which contributed to PRC's effort to deliver timely services in disaster-stricken services
•    Vicente Cuevas – For providing free aircraft services on several occasions, such as for PRC's operations in Ompong-hit communities
•    Clement Yang – For providing fast and effective assistance, especially for PRC's Haiyan operations and Measles crisis response
A posthumous award is also awarded to businessman Dominic Sytin, who donated a firetruck, a water tanker, and an ambulance, which are now being used to address the needs in local communities.
PRC as a donor National Society
The Philippine Red Cross helps all nations, equally showing and giving love around the world. Following the earthquake in Nepal in 2015, PRC sent emergency response personnel and medical doctors and nurses to assist Nepal Red Cross' operations.
As a donor society, PRC has sent more than US $2.5 million in donations to some of the biggest calamities:
2005
•    US $25,000 – Hurricane Katrina
2006
•    US $10,000 – Earthquake, Pakistan
•    US $85,000 – Indonesia, two years after it was struck by Tsunami
2008
•    US $20,000 – Earthquake, Sichuan, China
•    US $15,000 – Cyclone Nargis, Myanmar
2011
•    US $2.4 million – Aid to Japan after a powerful Tsunami
2014
•    US $25,000 – Armed conflict, Gaza
2015
•    US $37,000 – Nepal Earthquake
About the Red Cross and Red Crescent Movement
Red Cross and Red Crescent volunteers are as diverse as the life-saving and life-changing services they provide through the International Red Cross and Red Crescent Movement: 190 National Societies, the International Committee of the Red Cross (ICRC) and the International Federation of Red Cross and Red Crescent Societies (IFRC).
In 2019, National Societies around the world celebrate 100 years of the IFRC, which was founded by the Red Cross societies of France, Great Britain, Italy, Japan and the United States of America. IFRC – originally known as the League of Red Cross Societies, was created to preserve, share and promote the expertise and knowledge gained during humanitarian responses to the First World War and the Spanish Flu epidemic. A century later, the IFRC network has 190 National Societies with even more in the future.