Red Cross receives P124M humanitarian aid from Bloomberry Cultural Foundation Inc.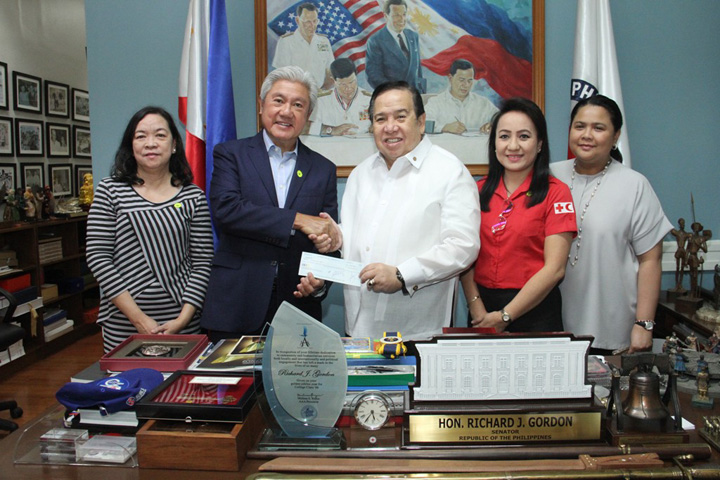 The Philippine Red Cross (PRC) received a 124,067,000 million peso humanitarian contribution from Bloomberry Cultural Foundation Inc. (BCFI) to support PRC's Dialysis Samaritan Program, 2019 Safe Bood for All and the Capacity Enhancement of the PRC Olongapo Chapter.
"Their donation will surely go a long way in helping the most vulnerable and further strengthening PRC's humanitarian efforts to uplift human dignity", said Chairman and CEO Richard Gordon.
The cash grant will be used to sponsor a complete kidney dialysis and care treatment plan for indigent patients with kidney failure, provide indigent and charity patients better access to safe and quality blood, and for the procurement of equipment to enhance the capacity of the Blood Center and Communications Center of the PRC Olongapo Chapter.
The turn over ceremony was attended by BCFI President Donato Almeda, BCFI Executive Director Filipiniana Laureana, Regulatory Affairs Officer Atty. Ellan Mark Pailan, PRC National Blood Services (NBS)Director Dr. Monina Nalupta, and PRC Governor Carissa Coscolluela on September 11 at the 5th Floor of the Senate of the Philippines, Roxas Boulevard in Pasay City.
PRC's Hemodialysis Center has already performed 1,161 treatments for indigent patients since its operation started on February 11, 2019. The National Blood Services dispensed 244,052 units of blood from January to mid-September of 2019 alone.
PRC Olongapo Chapter is one of the more aggressive chapters and needs equipment to increase its capability to react and respond to emergency situations.
The Philippine Red Cross is always committed to reach out to the helpless and to the most vulnerable.