PRC urges public for more support to quake-hit families in Mindanao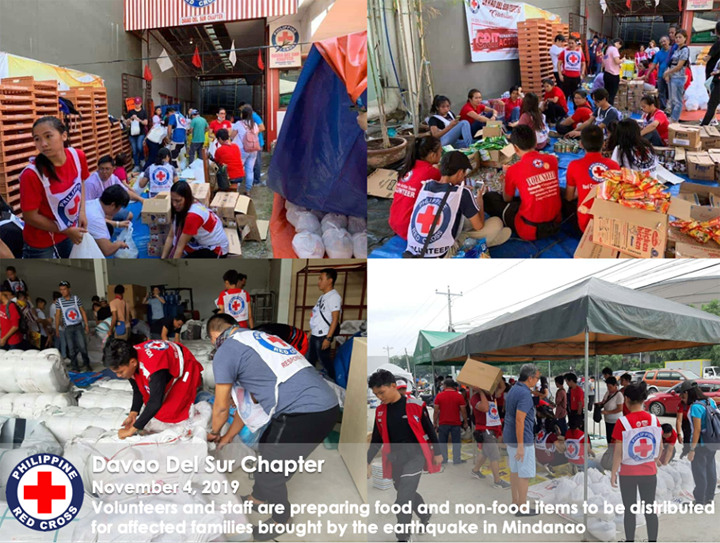 As relief operations continue in quake-hit areas in Mindanao, the Philippine Red Cross(PRC)reiterated its appeal for more support for thousands of families affected and displaced by strong earthquakes that shook the region on October 16, 2019 followed by a series of equally strong tremors.
PRC Chairman Richard Gordon urged the public including big companies to help in the relief efforts through their donations especially for the most vulnerable residents of North Cotabato and Davao Del Sur, two of the severely hit areas.
"More than 420 Red Cross volunteers are on the ground to aid the affected families and individuals in Regions 11 and 12. Assistance is badly needed in the form of temporary shelters, food, medicine, clean water, tents and essential household items (water containers, kitchen sets, hygiene kits, sleeping kits)," Gordon said.
As of November 4, there are more than 37,000 families or 188,000 individuals affected by the series of earthquakes in Davao and Soccsksargen regions in the past two weeks.
"Other communities are in need of temporary medical facilities as some hospitals were damaged by the tremors. The fear is that the more than 2,600 aftershocks monitored by PHIVOLCS could have further weakened the structures' foundation," Gordon added.
Water is an essential need and PRC continues to produce safe drinking water to insure adequacy of supply especially for the residents staying in evacuation areas.
To prevent the spread of water-borne and communicable diseases, PRC's Water, Sanitation and Hygiene (WASH) team deployed additional water tankers to provide clean and safe water to the affected families and individuals suffering from the disruption of the water systems. Hygiene and sanitation are not overlooked with the installation of additional 20 portable toilets.
PRC North Cotabato-Kidapawan City Chapter provided hot meals to more than 7,300 individuals particularly in Barangays Ilomavis and Balabag, administered first-aid,conducted psychological counselling,distributed beneficiary cards to 300 families staying in the Malasila National Vocational and Technological High School. Potable water is made available to residents of Barangays Ilomavis, Kidapawan and Old Bulatukan in the Municipality of Makilala.
In Davao Del Sur, PRC distributed food items in Barangays Darapuan and Kinuskusan, non-food items, health kits, sleeping kits to 107 families in Barangay Anonang, in the Municipality of Bansalan, water in Barangays Balnate and San Miguel in the municipality of Magsaysay.
The PRC team from Davao del Sur Chapter also conducted hygiene promotion, Red Cross volunteer orientation and set up welfare desk/first aid station in relief areas in the Municipality of Bansalan.
PRC uses resources provided by generous donors for these activities. The public can help PRC replenish these resources by donating through the following avenues:
BDO
Peso Savings: 00-453-0190938
Dollar Savings: 10-453-0039482
Swift Code: BNORPHMM
BPI
Peso Savings: 4991-0036-52
Swift Code: BOPIPHMM
Metrobank
Peso Savings: 151-7-151524342
Dollar Savings: 151-2-151002182
Swift Code: MBTCPHMM
Paypal