Narito ang mensahe ni Sen. Dick Gordon sa ika-75 Anibersaryo ng Philippine Red Cross.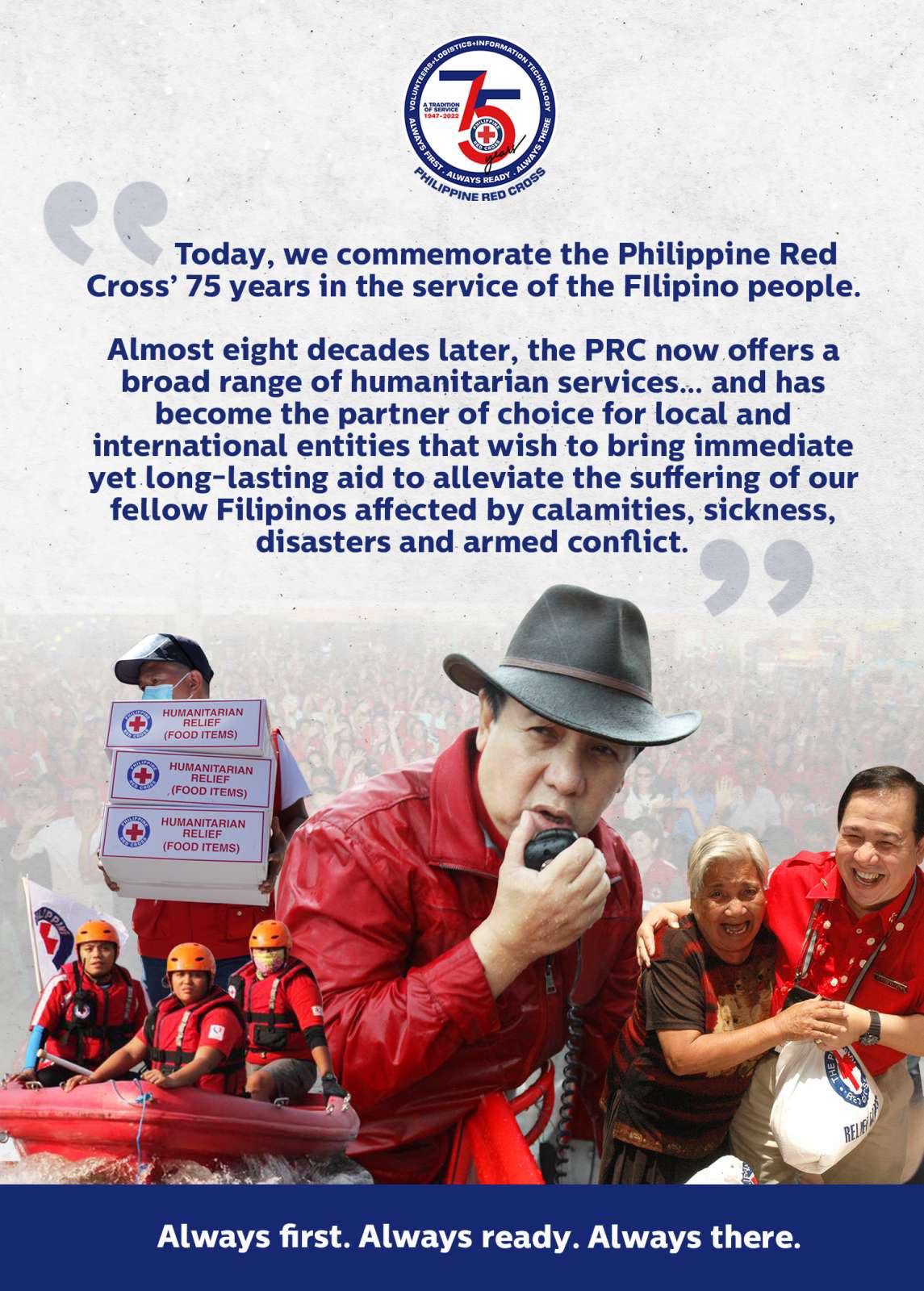 A blessed Semana Santa!
May the sacrifice of Jesus and the grace of God bless all our hearts and homes with peace.
Today, we commemorate the Philippine Red Cross's 75 years in the service of the FIlipino people. It is fitting that such a momentous occasion falls during Good Friday, a day of contemplation and reflection for most of our countrymen.
The Philippine Red Cross (PRC) originally had its roots in the Philippine Revolution of 1896 but was officially created on April 15, 1947. It was initially involved only in the provision of first aid to soldiers at war, supplying blood and medicine as well as some participation in disaster-related rescue activities. Almost eight decades later, the PRC now offers a broad range of humanitarian services to help the most vulnerable during times of danger.
Following in my mother's footsteps, I joined the Red Cross as a volunteer 55 years ago. In 2004, I was elected Chairman and immediately went about a modernization and expansion program. From having one ambulance and a few blood banks, we today have a state-of-the-art operations center which helps us track and receive disaster updates, our own maritime vessel, the MV PRC Amazing Grace that can deliver relief goods should land transport be problematic after a calamity, 2 amphibious rescue vehicles, 29 food trucks, each capable of serving nutritious hot meals to 100 people every hour, 28 water tankers that recently provided 15 million liters of potable water to disaster areas affected by Typhoon Odette, payloaders, hospital tents, and 10 warehouses all over the country that make rescue and response more efficient.
During the COVID-19 pandemic, we established 14 molecular laboratories for RT-PCR testing, a service that the PRC had never offered before. Today, we are the largest testing provider in the country and have conducted over 5 million tests. The PRC also opened 25 vaccine centers and deployed 16 buses to help make vaccination more accessible to our people. We also opened 6 isolation facilities for those who test positive and need to be segregated from the community in order to stop transmission and keep people safe.
Today, the PRC is the country's foremost humanitarian organization and has become the partner of choice for local and international entities that wish to bring immediate yet long-lasting aid to alleviate the suffering of our fellow Filipinos whose lives are affected by calamities, sickness, disasters and armed conflict.
Our mantra of Volunteers + Logistics + Information Technology equals a Philippine Red Cross that is Always First, Always Ready, and Always There, so aptly describes how we are able to accomplish the complexities of our 24/7 tasks. Our 75th year is by no means a pinnacle milestone for the PRC, but the continuation of our journey towards a century of compassionate humanitarian service to the most marginalized. This journey will be our inspiration to further develop our organization's services and provide the resilience that our country needs to face any future uncertainties.
I thank all our volunteers and staff spread across our nation, and express my sincere and profound respect for all of you who have sacrificed much in our crusade to alleviate the suffering of our countrymen. Thank you for your praiseworthy commitment. Thank you for your boundless dedication.
Finally, as Chairman of this noble and inspiring organization, I assure the public that PRC shall remain committed to provide the best humanitarian service possible towards a better tomorrow for all Filipinos in need.
Mabuhay! God bless the Philippines!