Philippine Red Cross starts administering second Covid-19 booster shots to the elderly, immunocompromised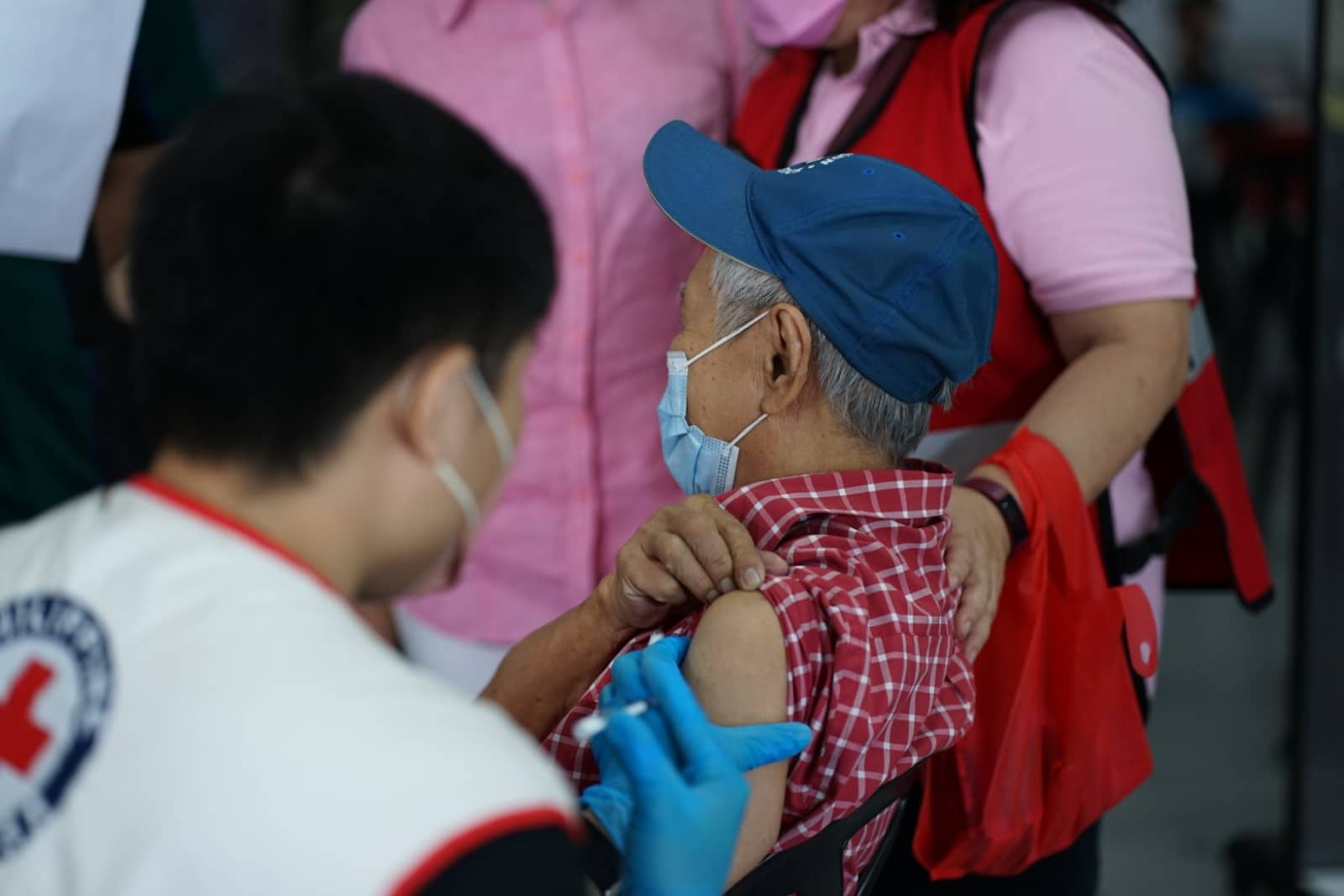 The Philippine Red Cross (PRC) started administering second booster shots of Covid-19 vaccines today, April 27, 2022, in Mandaluyong City, to the elderly and the immunocompromised. The Philippines' Department of Health announced last April 13, 2022 that the Food and Drug Administration has approved the administration of Covid-19 second booster shots to the elderly, the immunocompromised, and frontline health workers.
PRC Chairman and CEO, Senator Richard "Dick" J. Gordon, advised the immunocompromised who are fully vaccinated and have the first booster shot to get the second booster shot if the required time interval has lapsed. "Hinihikayat ko ang ating mga kababayan na immunocompromised na fully vaccinated at may first booster shot na kumuha ng second booster shot sa akmang panahon," Chairman Gordon said.
The spouses Ninfa and Nicanor Viray, who are both elderly and immunocompromised, had their second booster shots at the PRC today. Ms. Viray, 84 years old, is a cancer patient who just had a mastectomy. Mr. Viray, 85 years old, is a diabetes patient. They both had their first booster in December 2021. The second booster shot against Covid-19 is given at
least four months after the first booster shot, but the interval could be earlier for other patients if prescribed by a doctor.
"That we'll be more protected from more severe symptoms owing to our age. We'd like to be as protected as possible, considering that sometimes we are also compelled to go out of the house to buy some basic needs," was Ms. Viray's answer when asked what she hoped the second booster shot would do. She added that getting the second booster shot is part of their taking care of themselves, because their decisions about their health affect the rest of the family.
When asked how they would encourage other members of the elderly population to get vaccinated, Ms. Viray says she would show them how she and her husband have relative capacity to still enjoy life, because they can be mobile and interact with people with confidence despite their advanced years. Mr. Viray shares that his style is personal; he talks to his friends about the benefits of getting vaccinated.
Ms. Viray says they try to observe all the health protocols as much as possible, because they don't want to abuse the new lease on life they are enjoying because of the protection that the vaccines give. Mr. Viray attests that since he got vaccinated, he has felt more assured that he is protected. The couple is keen on doing their share in educating the community about the collective nature and solution to the Covid-19 public health emergency.
The PRC's vaccination efforts are part of its mandate as auxiliary to the government in its humanitarian tasks. The PRC started administering Covid-19 vaccines in March 2021. To date, it has administered 1,153,200 doses of Covid-19 vaccines and boosters through its Bakuna Centers, Bakuna Teams, and Bakuna Buses nationwide. It has fully vaccinated 367,985 individuals.