Over 11,000 families benefit from 100,000 liters of water from PH Red Cross's water tankers during Maynilad's pipeline repair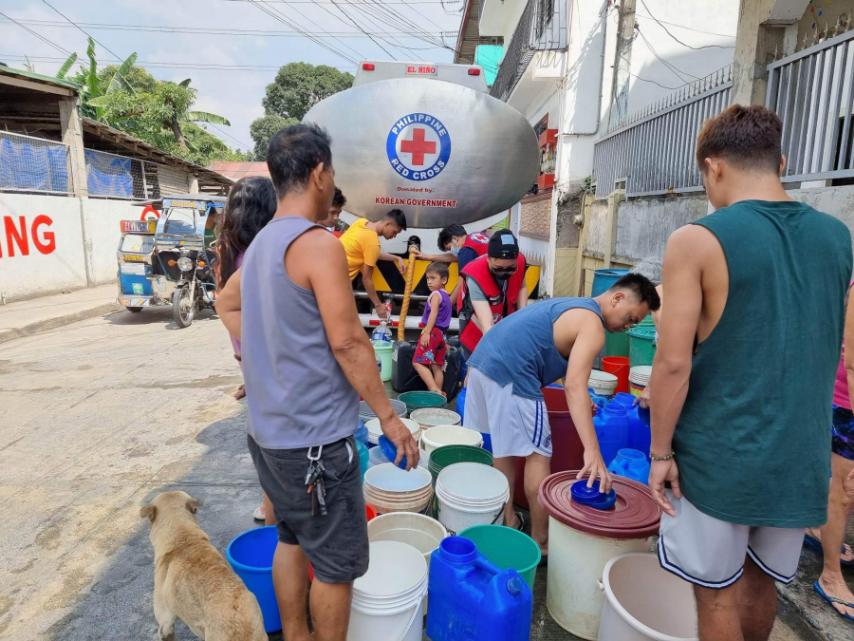 As part of the Philippine Red Cross's (PRC) mission to provide access to clean water during emergencies through its Wash, Sanitation, and Hygiene (WASH) programs, the PRC mobilized three of its water tankers from March 6 to 7, 2023 to supply potable water to areas in Parañaque and Pasay affected by Maynilad Water Services, Inc.'s pipeline repair along Osmeña Highway in Makati.
A total of 11,925 families, or 26,156 individuals, were provided with 100,000 liters of clean drinking water from the PRC. The water tankers were deployed in Barangays San Martin De Porres, BF Homes, Marcelo Green, and Sun Valley in Parañaque. The following areas in Pasay also benefited from the PRC water distribution: Barangay 131 and 19th, 22nd, 25th, 34th, 35th, and 36th Streets.
PRC Chairman and CEO Richard J. Gordon said that access to clean and safe water during calamities and various emergency situations is vital to survival. "Napakahalaga na mabigyan ng ligtas at maiinom na tubig ang ating mga kababayan sa Metro Manila na apektado ng 20 to 57-hour water service interruptions ng Maynilad. Napakahirap ang walang tubig because we need water to survive. It's a major necessity! I immediately sent three of our water tankers in Parañaque and Pasay. 'Yan naman ang gamit ng water tankers ng PRC. During disaster, calamity, and conflict, the Philippine Red Cross is always ready to serve and provide for our people."
To date, the PRC owns 28 water tankers, with a capacity of five to twelve thousand liters each; the water tankers are donations from PRC's partner organizations. "PRC water tankers are vital to the country's need to promote proper hygiene and deliver access to clean water. Palalakasin pa natin ang ating mga programa under the PRC WASH para sa ating mga kababayan," Chairman Gordon added.