Gordon, PH Red Cross continue inspiring path set by Amelia Gordon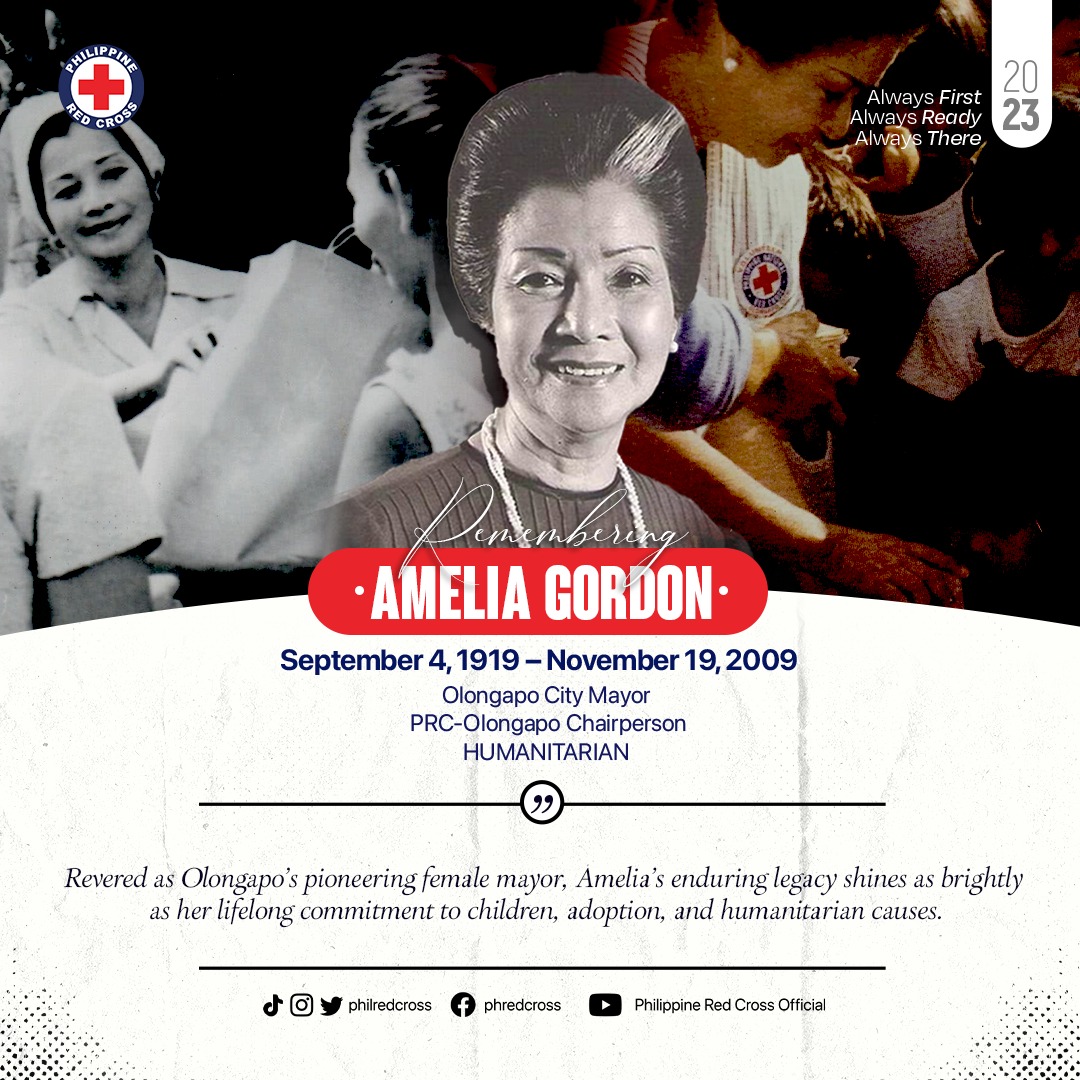 September 4th marks the birth anniversary of a remarkable figure in Philippine history, the incomparable Mrs. Amelia J. Gordon. Revered as Olongapo's pioneering female mayor, Amelia's enduring legacy shines as brightly as her lifelong commitment to children, adoption, and humanitarian causes, which earned her the prestigious Pearl S. Buck International Woman of the Year Award, a distinction shared by only two other Filipino women.

A beacon of compassion, Mrs. Gordon profoundly impacted the lives of countless individuals, adopting more than 50 children and establishing the Boys Town and Girls Home in Olongapo City. These sanctuaries provided shelter and hope to orphaned Filipino children of American descent, etching Amelia's name in the annals of philanthropy.

Beyond her maternal endeavors, Amelia J. Gordon played a pivotal role in her son Dick Gordon's journey, who would later become a prominent figure as the Philippine Red Cross Chairman and CEO. Her devotion to humanitarian causes was exemplified by her role as the founder of the Olongapo Chapter of the Philippine National Red Cross.

Amelia's legacy was not confined to her philanthropic endeavors. She valiantly championed Olongapo's quest for independence from American rule and played an instrumental role in the city's elevation to cityhood in 1966. Following the assassination of her husband, James Gordon Sr., in 1969, Amelia became the city mayor, displaying her indomitable spirit and compassionate heart.

During her tenure as mayor, Amelia competently managed Olongapo City during the tumultuous period of the Vietnam War when it served as a recreational refuge for American soldiers. Her strong leadership ensured peace and security for the city's inhabitants.

Driven by her humanitarian principles, she launched one of the city's most significant housing development programs, affirming the human dignity of Olongapo's burgeoning population. Her political acumen culminated in her election as Assemblywoman to the Batasang Pambansa in 1984.

Even in her retirement from formal politics, Amelia remained devoted to serving her fellow Filipinos, actively contributing as a Red Cross volunteer. She spearheaded blood donation programs and led relief operations in response to disasters, including the Cabanatuan earthquake and the eruption of Mt. Pinatubo.

Amelia's achievements and dedication garnered her more accolades, including the Silver Humanitarian Service Cross Award from the American Red Cross, the Gold Humanitarian Award, and the Doña Aurora Aragon Quezon Medal award from the Philippine National Red Cross. She was also honored as a Gintong Ina Awardee and received the Philippine Centennial Commission Volunteer Lifetime Achievement Award.

Today, as we commemorate Amelia Gordon's birthday, we celebrate not just a date on the calendar but a timeless legacy of humanitarianism that continues to inspire generations. Dick Gordon and the Philippine Red Cross carry forward her torch, ensuring that the spirit of compassion and service blazes brightly in Olongapo and beyond.