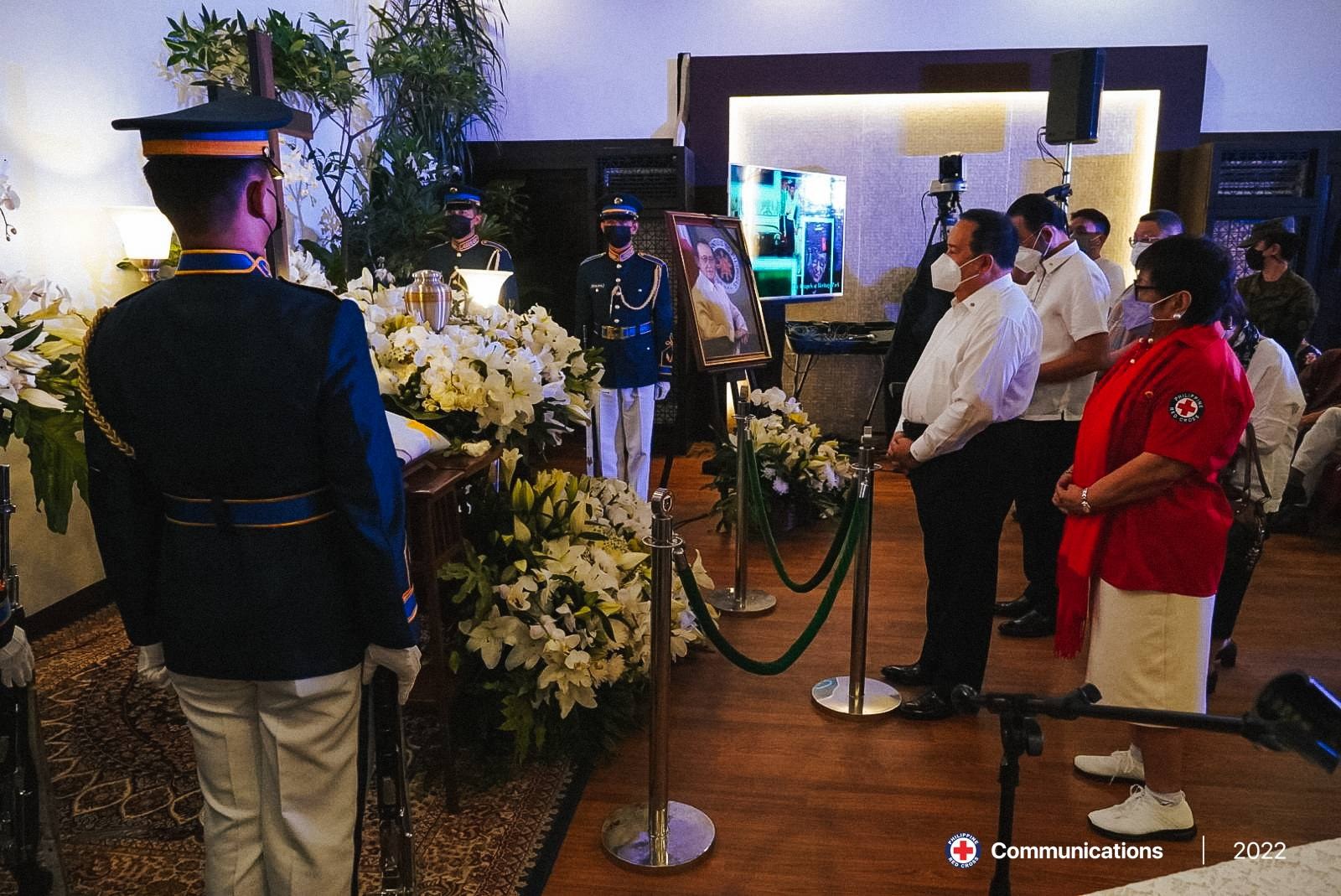 Philippine Red Cross Chairman and CEO Richard J. Gordon, while paying his last respects to Former President Fidel V. Ramos (FVR) at Heritage Park, in Taguig, over the weekend, said FVR was a big believer in the Red Cross. Gordon attended the wake of the late president together with a delegation from the foremost humanitarian organization in the country and a representative from the International Federation of the Red Cross and Red Crescent Societies.
Gordon said FVR was one of the greatest supporters of the Red Cross. He cited that FVR, being a military man and able to appreciate the value of blood in war zones, was a regular blood donor through the Red Cross. "Palaging nagbibigay ng dugo. Inaawat ko na [kasi] lagpas na siya ng 65 [years old]; sabi ko 'ilalagay na lang namin sa museum 'yang dugo ninyo'. Pero bigay pa rin nang bigay, because symbolic iyun eh." The PRC sets up medical tents in war zones, such as in the Marawi siege in 2017.
Gordon also shared that FVR was with him in the Mt. Pinatubo response and the July 16, 1990 earthquake response in Cabanatuan. FVR and Gordon worked together in the rehabilitation of areas in Central Luzon, including SBMA and Clark, after the Mt. Pinatubo eruption. "He was always enthusiastic on finding solutions on what we can do," Gordon said of FVR.
Gordon expressed sadness over FVR's passing, referring to him as one of the country's "greatest statesmen." He attested that FVR was a president who was hardworking and recalled his "Philippines 2000" vision of having more investors in the country in order to create more jobs. He and FVR had a long working relationship in government service: FVR was president when Gordon served as mayor of Olongapo City for a second term. While mayor of Olongapo, Gordon was appointed chairman of the Subic Bay Metropolitan Authority by FVR.
Gordon lauded FVR's academic excellence, as a graduate of the US Military Academy at West Point. He said that FVR's bearing was a good example to people who might become leaders of the Philippines. "Nakakalungkot, pero nakakatuwa na nagkaroon tayo ng katulad nya: We did not have enough of him, which is sad, but we are happy we had him at all, even for a while," Gordon concluded.
From Day 1 of FVR's wake, the PRC provided antigen tests to FVR's family, friends, and mourners for free, to make sure everyone was safe. Two PRC ambulance teams were also deployed to Heritage Park to assist mourners in case there was a medical emergency. Gordon said these acts were the least PRC could do to honor FVR's lifelong, committed support to the PRC.