PRC Chairman Gordon urges parents to have their kids vaccinated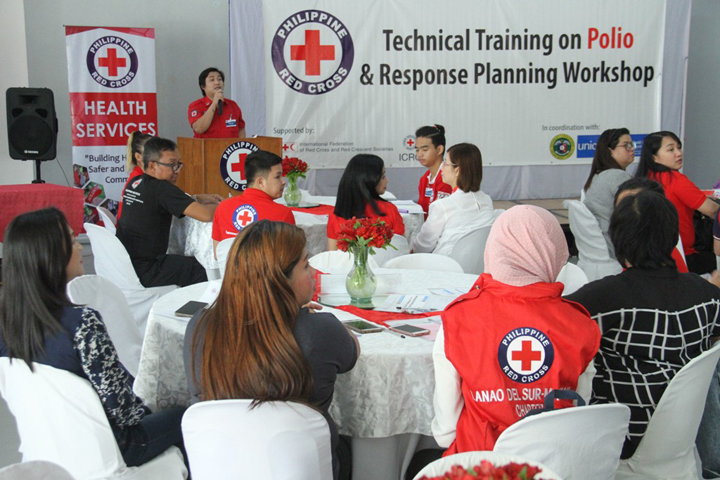 The Philippine Red Cross (PRC) conducted aTechnical Training on Polio and Response Planning Workshop in preparation for the Synchronized Oral Polio Vaccine to be held in the National Capital Region and Mindanao on October 14 – 27, 2019 to address the polio outbreak in the country which re-emerged after 19 years of being polio-free.
"It is through vaccines and proper hygiene and sanitation that we will be able to combat polio. PRC works hand in hand with the Department of Health in eradicating poliomyelitis. Every child aged 0-5 years old must be vaccinated. The Red Cross is always first, always ready and always there in serving the most vulnerable", PRC Chairman and CEO Richard Gordon said.
PRC volunteers from NCR and Mindanao Chapters, who will play a big part in the said mass immunization, were trained on proper handling and distribution of the Oral Polio Vaccine (OPV), the correct way of disposing of the OPV vials, and were also briefed on the updates and initiatives of the government concerning polio.
The information learned from this training session will be disseminated to PRC chapters' staff and volunteers who will assist in administering OPV to children from October to January next year. "It is through the power of pool of volunteers that the Red Cross can help our partners in fighting polio in the upcoming "Sabayang Patak Kontra Polio", added Gordon.
Polio is a communicable disease caused by poliovirus. It can be spread from person to person through fecal to mouth route and also through water and food contaminated with poliovirus. It is preventable by vaccines with multiple doses.
UNICEF Immunization Officer Dr. Madonna Andaya – Anabieza and Department of Health (DOH) Director III Dr. Maria Paz P. Corrales gave deeper insights on polio in the country, types and series of vaccines, and details about the forthcoming synchronized oral polio vaccines, including the planning of different activities and other intervention strategies.
Currently, the PRC has around 2 million volunteers nationwide via the Red Cross 143 Program. It is a community-based volunteering program of the Philippine Red Cross where one leader and a minimum of forty three (43) members form part of an active corps of capable, caring, and committed individuals.
The training-workshop was organized by the PRC Health Services headed by Mark Alvin Abrigo, with support from the International Federation of Red Cross and Red Crescent Movements (IFRC) and International Committee of the Red Cross (ICRC) and in coordination with the Department of Health (DOH) and United Nations Children's Fund(UNICEF).
The IFRC released 336, 302 Swiss Francs (336,700 US Dollars) from its disaster relief emergency fund to support PRC's house to house visit in giving OPV. The target number of Red Cross is 20,000 children in Metro Manila alone.
The training was attended by PRC Secretary General Elizabeth Zavalla, PRC National Blood Services Director Dr. Monina Nalupta, Head of the IFRC Philippines Country Office Chris Staines, IFRC Consultant Dr. Susan Mercado and ICRC Head of Cooperation Richard Villena. Also present at the event were PRC Chapter Administrators, Focal Person on Health, Chapter Service Representatives, and RCAT Health/Senior Health Volunteers from PRC NCR and Mindanao chapters.