PRC's people "centered and designed" early warning system highlighted by Secretary General Dr. Pang at UN Meeting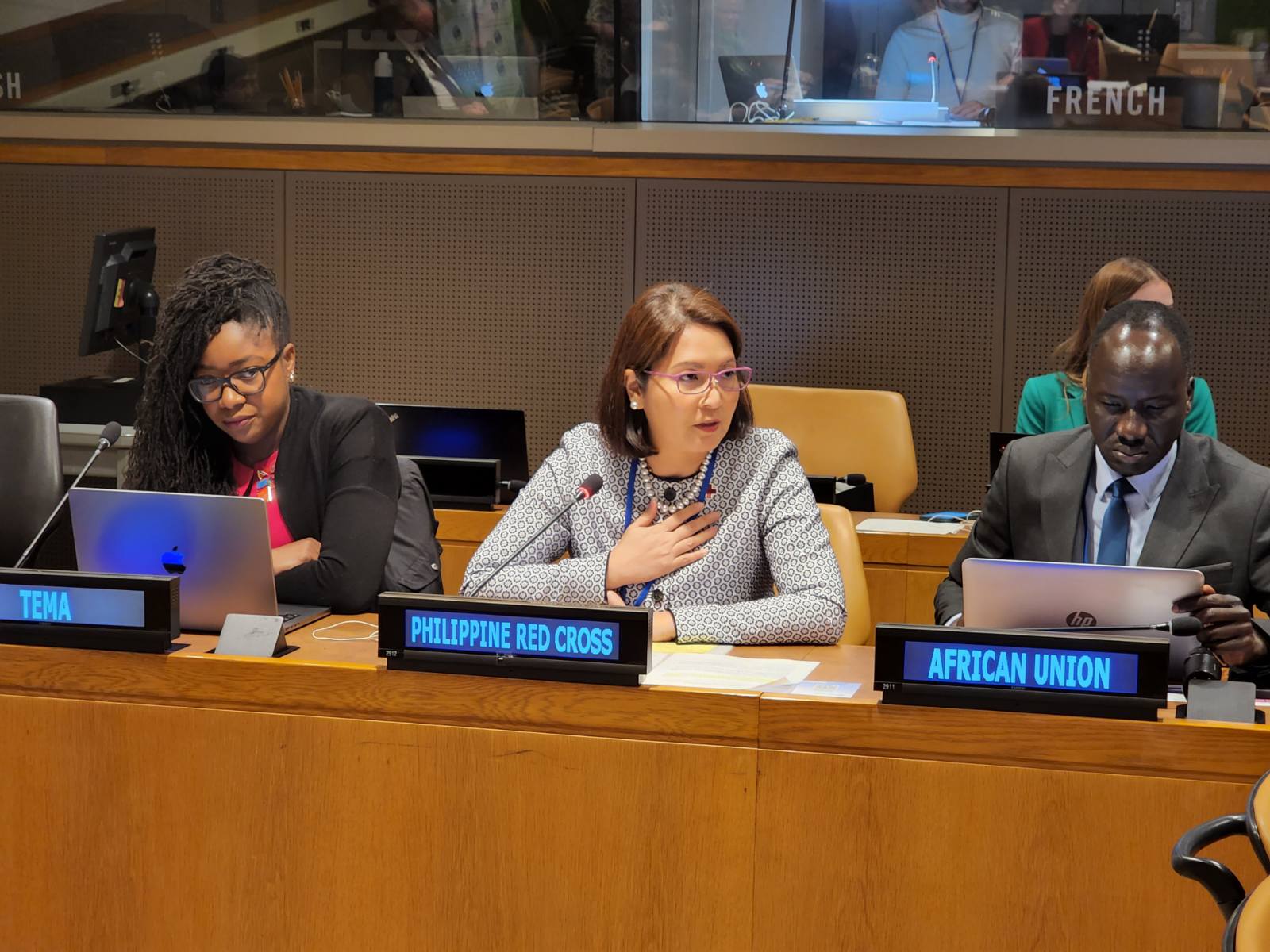 From May 17 to 19, Philippine Red Cross Secretary General Dr. Gwen Pang represented the International Federation of Red Cross and Red Crescent Societies (IFRC) at the United Nations High-Level Meeting of the Midterm Review for the Sendai Framework for Disaster Risk Reduction (SFDRR) in New York where she discussed the importance of integrating community stakeholders' perspective in all stages and levels of Early Warning System and Early Action Protocols.
Dr. Pang explained that PRC's network of volunteers across the country enables the organization to better understand each community's needs in the face of hazards. Through involving the community in the planning, designing, implementing, and evaluating processes and PRC's global tools, the PRC's Early Warning System and Early Action Protocols — which are crucial in reducing the impact of impending disaster threats — are not only 'people-centered' but also 'people-designed'.
During the discourse, Dr. Pang mentioned the inclusivity of the PRC's Early Warning System and Early Action Protocols. She elucidated that this system and protocol extend to people with disabilities, migrants, and indigenous groups. The PRC incorporates colors and sounds (visual and audible signals) in its alert system to communicate danger and necessary actions to people with specific needs. The PRC also utilizes the combined forces of modern technology and indigenous knowledge to address the needs of people with insufficient knowledge of and access to technology.
Moreover, communities expressed concerns about their lives, their families as well as the impact of disaster shock on their livelihoods and properties. Dr. Pang expounded on the role of the Early Warning System and Early Action Protocols in these areas of concern, adding that these provide time for communities to early harvest their crops, relocate livestock, or move their small businesses with them.
"Empowering people with safety responsibilities is crucial. We cannot be there for them all the time or as a disaster happens. But we can equip them with what they need to survive. And they can take the lead because when it comes to their own communities, they know better than us. We just have to be there, guide them, and put in place mechanisms that will really help them. Early warning alone will not be enough, we must support them with early action mechanisms," Dr. Pang said.
She concluded her participation by saying that Early Warning System and Early Action Protocols can be game changers if all leaders will work together and when community engagement is ensured in every step.
The Midterm Review of the SFDRR provides a crucial platform for governments, organizations, and communities worldwide to evaluate the progress made in implementing the framework's objectives since its adoption in 2015. By convening esteemed stakeholders and decision-makers, this conference aims to strengthen global commitments and collaboration towards reducing disaster risks and building resilient communities.
Watch the whole speech and dialogue here: https://media.un.org/en/asset/k10/k10rn0x1qx